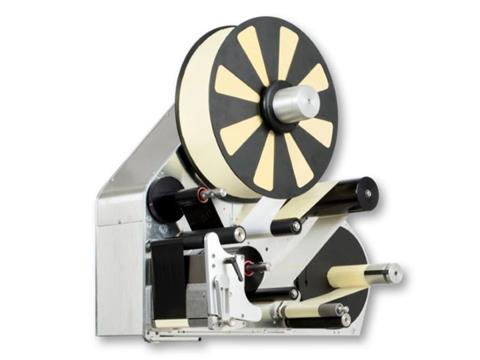 Logopak's labelling systems are widely used in the beverage industry. At drinktec fair (Munich, 2017, September 11–15, Hall B4.125) the manufacturer is presenting a host of new machines for different applications developed completely in-house.
New labelling system Series 500+ is intended for the beverage industry. This standard machine can be easily customized with over 30 applicator types and flexibly supports all standard application methods (top-, front- and side-application). For labels up to A5, the Series 500+ labelling system provides direct thermal and thermaltransfer printing. Both inside and outside wound labels as well as thermal-transfer ribbons with widths up to 165 mm can be used. What makes the Series 500+ stand out from conventional machines is its synchronised running length of up to 800 metres for labels and thermal transfer. Depending on the cyclic output, the labeller displays the remaining running length for both rolls. And the 12 mm thick labeller base plate, made of anodised aluminum, ensures stability. A significant benefit in terms of industrial hygiene is the fact that the entire design is completely devoid of corners and sharp edges. The accessible structure of the main drive roller means that Media insertion can be carried out quite conveniently.
Trade fair visitors can actually watch the Series 500+ in use, and get to sample a freshly labelled bottle of mineral water too.
State-of-the-art adhesive bonding Unique on the market, the new QTB applicator can apply liner-free labels, boasting an extremely stable adhesive bond. The revolutionary thermal applicator head takes care of heating and applying in one single operation. The label rolls minimise line stops up to 70 per cent, thanks to maximum lengths of 2,400 metres. Flexible label lengths on demand are an option with infinite label rolls. As silicone backing paper is not used, this significantly reduces waste and optimises supply logistics. The QTB applicator is suitable for pallet-, carton- and small-shipping-labelling (even overcorner), and the label surface is individually printable.
High-performance pallet-labelling
A new innovation is the Series 850+, which features the P3 applicator for pallet-labelling according to GS1 standards. Easy to operate, it makes two-sided labelling possible with a speed of up to 180 pallets per hour at only one stop, or three-sided labelling with a speed of up to 120 pallets per hour at two stops. The system can cope with more than 100 standard applications with changing data. The machine runs in stand-alone operations without any PC or other connection to primary software systems, and it can be equipped with RFID technology as an optional extra.
Successful start with Series 300
Visitors to Logopak's booth will also be able to see the newly developed Series 300 labelling system which applies labels to trays and containers by the print-and apply-method. This robust entry-level option comes with many tried-and-tested features. The machine processes both inside and outside wound labels and thermal transfer rolls. Media can be inserted effortlessly thanks to the accessible structure of the main driver roller. Devoid of corners and sharp edges, the design prevents dirt sticking.
More info: