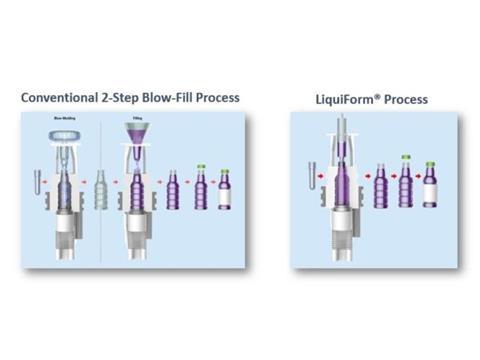 The LiquiForm Group, a division of Amcor, will showcase its breakthrough forming and filling manufacturing technology at the upcoming NPE2018 May 7-11 at the Orange County Convention Center in Orlando, Fla. (Booth #S16078).
The company will discuss the latest capabilities of the technology utilizing a broad range of liquids, materials, packages, and processing systems. These development activities - complemented by the work of its licensees – have already culminated in a commercial packaging application for the home and personal care market. "We've come a long way and we're thrilled about the progress we've made in validating the technology," said Ashish Saxena, vice president and general manager of The LiquiForm Group. "We're also very encouraged by the activities of our licensees (Amcor, KHS, Krones AG, Sidel, and Yoshino) who are among the world's leading packaging machinery makers and processors, all focused squarely on developing solutions on their own."
In its most recent update on the breakthrough technology, LiquiForm Group will exhibit samples of containers made of PET, HDPE, and PP – all produced on their lab machine in Saline, Mich. These containers were formed in different shapes, sizes, and weights (ranging from 200 ml to 1 gal) using various types of liquids (water, tea, soap, shampoo, detergent, cleaners, and conditioners) with a wide range of viscosities (ranging from 1 to 10,000 cP). LiquiForm has also successfully formed containers under cold, ambient, and hot-fill conditions ranging from 10°C (cold fill) to 87°C (hot fill).LiquiForm® technology combines the forming and filling processes into a single-step machine. The technology uses liquid product (instead of compressed air) to form a rigid plastic container, a process which affords more sustainable and efficient operations as compared to traditional blow and fill technology. The elimination of high-pressure compressed air from the process reduces energy consumption, space requirements, and equipment, maintenance, and service costs. It also eliminates the need to handle, store, and transport empty bottles. In addition, containers formed with liquid (which is incompressible) have demonstrated superior package definition and material distribution than containers formed with air. In other significant findings, the LiquiForm® process results in no degradation or contamination of the liquids as measured by both certified independent labs as well as some major Consumer Product Goods (CPG) companies. Similarly, testing has shown there is no degradation of the polymer and that top load strength and engraving capabilities are significantly improved compared to current technologies. The Liquiform® process is expected to be available from our licensees as part of affordable manufacturing systems that provide a lower Total Cost of Ownership (TCO) to market stakeholders.
Saxena also reports that consumer brands are being drawn to LiquiForm's flexibility and simplicity and its ability to reconfigure supply chains and move packaging closer to the market, resulting in favorable logistics cost and carbon footprint reductions.
The first commercial application using the LiquiForm® process was developed by Amcor Rigid Plastics in partnership with Greenblendz, a Michigan-based co-packer and developer of private label, environmentally-friendly consumer products. The 12oz polyethylene terephthalate (PET) bottle for Nature's PromiseTM brand of hand soap was produced on a proprietary Amcor-built machine powered by the LiquiForm® process. The new machine is the industry's first manufacturing unit to successfully utilize the LiquiForm technology.
More info: