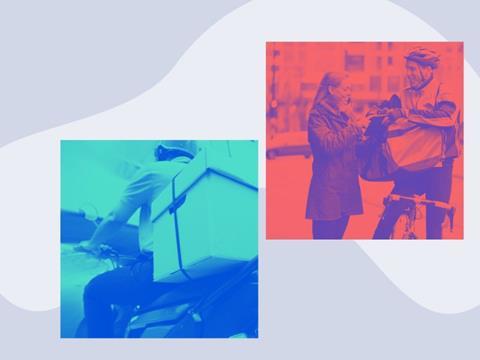 In the ever-changing landscape of online ordering and higher-than-ever customer expectations companies need to adapt quickly, or face being left behind.
Customers are no longer prepared to wait 3-5 business days for an item they order online. In the age of next-day, same-day, and even 1-hour deliveries, companies will find themselves losing business if these options aren't made available.
The companies investing in improving the speed of their last-mile logistics will be the ones who continue to grow. Two companies already putting in the effort are Mindful Chef and Trouva. Rajapack's Andrew Wood spoke to them both to find out how they are using technology to ensure their customers receive the best service possible. See the full report on last mile logistics.
Clarity for the customer is key
Glen Walker, COO of Trouva, an online marketplace which focuses on boutiques, believes giving customers visibility is the first step for an improved customer journey. "We ensure everything is as easy and as clear as possible for the customer – just because the logistics chain is complicated for the retailer doesn't mean it has to be for the customer."
Making the customer experience simple is also at the core of Mindful Chef's business plan. Mindful Chef provide the UK's only gluten and dairy free, vegan recipe box delivery service. Bertrand Nicoli, Director of Operations says, "The customer experience starts at the website, but does not end with a sale, and being able to maintain high standards all the way through to the end of the experience means that customers will be more consistently pleased with their purchase."
Are dynamic deliveries the future?
"We aim to incorporate a live ETA/tracking feature into our customer account portal to improve the experience on the customer side. [We] are looking into things like refrigerated vans and on-demand delivery – something which would be a first in the recipe box space."
Mindful Chef want to provide a faster service for their customers, and on-demand delivery of recipe boxes would lead the way in the industry. There is already technology available that could make this a viable option – drone deliveries to rural areas are one way they could achieve this.
For inner-city deliveries, having a complete oversight of all the logistical data available to your company is important. Trouva meet their tight one-hour delivery times by having visibility of their whole network.
"We manage couriers from lots of different companies and make decisions about moving orders to a different courier to speed up the shipping. We can look across the whole network in a way one small business could never do… and we can tweak the system to make sure we're making the right decisions across the network."
For both of these companies, the centre of the delivery process will always be the customer. Adapting new technologies, finding out how they can streamline their delivery processes, and making sure their customers are kept in the loop will be how they ensure continued growth.