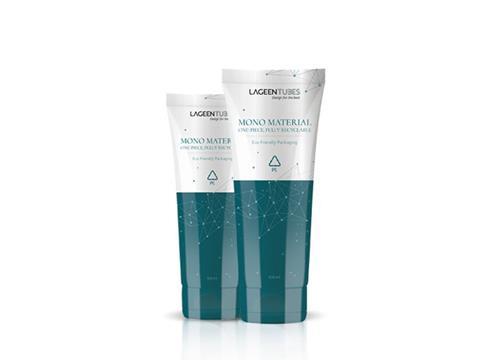 Lageen Tubes has introduced a new line of mono-material tubes made entirely of polyethylene (PE).
With the tube body, head, and cap all made of PE, the entire tube can theoretically be recycled as a single unit.
The new tubes are available in a range of lengths and diameters and with a choice of screw or flip-top caps made of HDPE (high-density polyethylene). The tubes are made of food-grade PE according to US and European regulations, and meet ISO 9001:2015 standards – making them suitable for cosmetics, toiletries, food, and pharmaceuticals.
All parts of the one-material tube are manufactured in-house and the tubes are supported by the company's full range of decoration capabilities.
"Recognizing that environmental impact should be a fundamental factor in all companies' decision-making process, we at Lageen Tubes are constantly striving to improve our environmental performance," said Yoav Grinberg, Lageen Tubes' CEO.
"Our new line of mono-material PE tubes provides brands with the best of two worlds – improved recyclability to help them meet their sustainability commitments and regulatory requirements, as well as full design flexibility to support their brand and positioning goals."