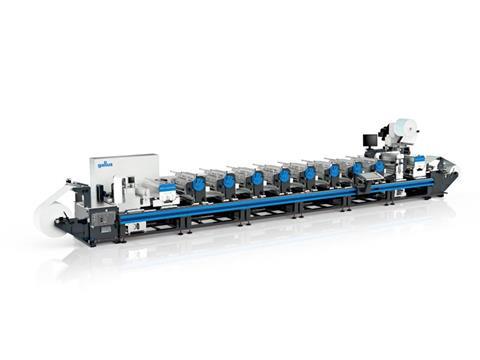 Swiss full-range supplier Gallus, a subsidiary of Heidelberger Druckmaschinen AG (Heidelberg), will be exhibiting under the banner "Speed up for Success" this year.
And Gallus is certainly hitting the accelerator at Labelexpo in Brussels, where the spotlight will be firmly trained on its new Gallus Labelmaster and Gallus Labelfire machine systems alongside the latest offerings from Gallus Services and Gallus Screen Printing. The company is out to impress trade fair visitors with a spectacular performance.
Gallus Labelmaster and Gallus Labelmaster Advanced offer maximum flexibility Hot on the heels of the successful debut of the Gallus Labelmaster during the Gallus Innovation Days in September 2016, Gallus is now set to unveil the Gallus Labelmaster Advanced line with multiweb feature at Labelexpo 2017 in Brussels. The basic versions of this label printing press will also be on display.The Gallus Labelmaster Advanced line's impressive modular design combines maximum flexibility with a high level of automation. The new press offers label printers an unrivalled variety of processes, as the various finishing and printing units can be changed quickly and easily at any machine position.
All Gallus Labelmaster presses share the same special platform design and can be configured to meet the customer's specific requirements. With its open interfaces, this machine series represents a highly secure investment and enables users to respond flexibly to future changes in the market.
In the new platform system, the Gallus Labelmaster is made up of modules each comprising two printing units. These modules are available in three different variants. The basic variant already covers all the essential label printing standards. The Plus version provides significantly enhanced flexibility to cover many applications in the label industry, and the Advanced line can meet virtually any requirement and be configured to include as much or as little automation as necessary. By offering this modular system, Gallus is ensuring that label printers can satisfy prevailing market requirements and always remain fit for the future – all for a level of investment that would previously have been inconceivable for premium products.
More info: