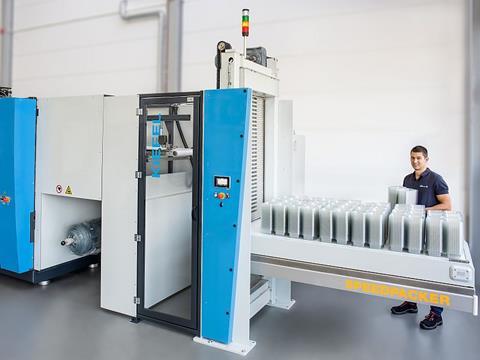 Kiefel GmbH has presented its SpeedPacker - an optimized product packing module for the KMD Speedformer Series with the potential to increase productivity.
The thermoforming specialists have launched the SpeedPacker. This powerful module is not only suitable for the Kiefel KMD Speedformer, but is also compatible with other manufacturers' steel rule cutting machines. The SpeedPacker is a buffering and unloading station that is fully integrated into the steel rule cutting machine. Buffering is key to reducing personnel requirements and achieving cost savings. The ergonomically optimized SpeedPacker ensures safe operation. The level of the unloading belt can easily be adjusted to the suit the height of the operator. Retrofitting is also possible for machines already in use.
Kiefel machines are modular and can be expanded as required. Various stacking solutions, quality control, and packing units are available. Automation is a considerable success factor for efficient manufacturing and enhanced productivity.
"We are always thinking about enabling our customers to optimally achieve efficient production" Erwin Wabnig, Head of the Kiefel Packaging Division. "The forming and cutting stations of our high-speed pressure forming systems are already very efficient. Time savings are also possible in the next steps", he explains. "Reliable stacking with buffering and rapid unloading permit fast packing or filling of formed parts, further increasing productivity."