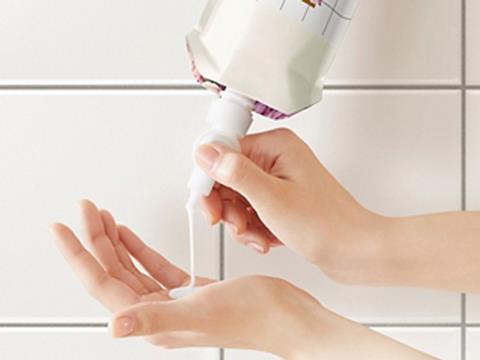 Kao Corporation has developed the Raku-raku Switch, which attaches directly to its Raku-raku Eco Pack Refill packs, turning them into primary packaging.
According to the company, a cosmetics manufacturer that produces John Frieda and Molton Brown, this packaging design reduces plastic use by approximately 50% compared with plastic bottles that use a pump dispenser.
The Raku-raku Switch attaches to the opening of the Raku-raku Eco Pack Refill, which is made of plastic film. At the other end of the switch is a dispenser spout, and in the middle is a soft, dome-shaped button. By pressing this button, a fixed amount of the liquid contents is dispensed.
This feature was designed with universal design principles in mind, with the aim of making the product easy to use with minimal physical effort. The design also prevents air and water from entering the pack even whilst the contents are being dispensed, to maintain a sanitary state inside and enable users to fully use up the liquid contents.
In a press release announcing the launch of its new product, Kao said: "We have been striving to reduce plastic consumption to help address the problem of plastic waste, by making plastic packaging thinner, promoting the use of refill packaging, making products more concentrated, and making product sizes larger.
"Aiming to accelerate the reduction of plastic use, more recently Kao has been developing and commercially launching innovative packaging solutions that offer both environmental performance and user-friendliness. The Raku-raku Switch is our latest solution."