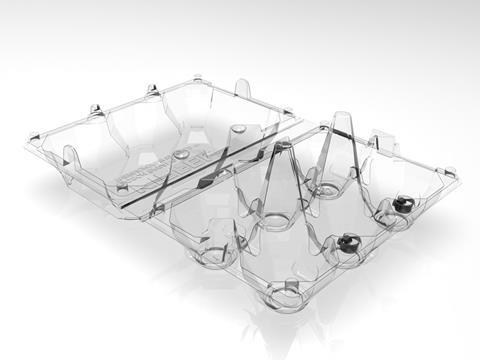 Each year approximately 100 billion USD of plastic packaging material value is lost from the economy. It is not only essential to consider used plastic as resource rather than waste from a sustainability perspective, but also from an economic viewpoint.
Kiefel's Design for Recycling programme systematically bundles the company's expertise to rethink the customers' products. Every detail of the product is re-assessed and rethought together with the customers. The customers are supported in all steps of their product development cycle: From material and product composition, up to the optimal requirements for their tools and thermoforming process.
Sustainable solutions
Kiefel Packaging has re-engineered the egg tray to facilitate the use of 100%, tray to tray recycled post-consumer PET. According to the company, the design demands were obvious: Uncompromised functionality and mechanical strength of the tray. It says that meticulous analysis and re-engineering of the material, tray and processing have led to a tray which is of similar or better quality to the ones available in virgin PS or PET.
In addition, Kiefels says the use of its new premium flatbed tooling in combination with the new generation flatbed KMD thermoformers (presented in Kiefel's Booth Hall 3, E 90) significantly streamlined development.
Next to a transition to 100% PCR material, Kiefel Packaging offers the expertise and support for more drastic material changes: For instance, a switch to paper, pulp or plant-based materials like PHA or PEF.