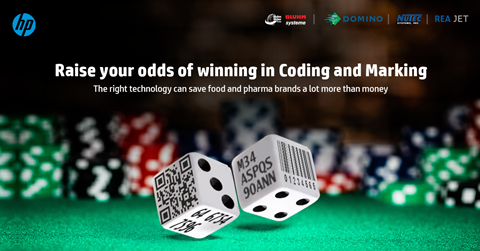 In this edition of our Innovation Spotlight feature, HP introduces a webinar in which it will explain how the right choice of technology can protect your brand and impact your business.
HP's Thermal Inkjet technology is the driving force behind HP Specialty Printing Systems and is integrated by OEMs into their specialty printers for the benefit of end-users in the food and pharmaceutical industries, as well as other industrial markets, with a focus on the Coding & Marking of products.
Over the last few months, the food and pharmaceutical sectors have been on the front lines due to the coronavirus pandemic sweeping the world, and efficient Coding & Marking on primary packaging and secondary packaging has played a critical part in ensuring products get to market fast and safely.
This webinar will focus on taking a closer look at the critical role played by Coding & Marking and the technologies behind Coding & Marking in supporting food and pharma brands in everything from combating counterfeiting, to food safety and meeting stringent compliance and regulations in these markets. We're also going to clarify some of the confusion around the leading Coding and Marking technologies and bust a myth or two.
Reserve your spot for our webinar on January 26th, 2020 (8:30 PT, 11:30 ET, 17:30 CET): Register here
#DoItWithHPTIJ #oeminkjet #hpthermalinkjet #specialtyprinting
This content was sponsored by HP.