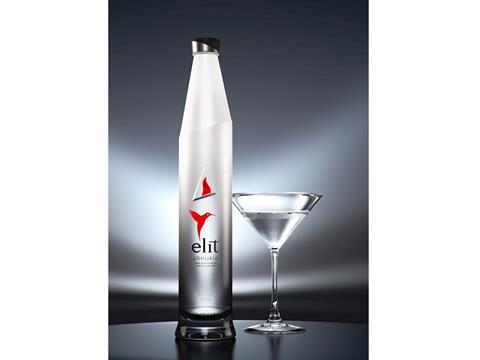 Following two consecutive years of success, elit® Ultra Luxury Vodka and Ushuaïa Ibiza Beach Hotel have come together for their third year of partnership to celebrate the party all summer long.
JDO, an award-winning UK-based design studio, has created the limited edition bottle for the second year in a row, aiming to push the boundaries of contemporary luxury experiences.
The 2017 edition comes in a part-frosted glass bottle, designed to symbolize elit's unique freeze-filtration process for unparalleled purity.
The frosted design then gradually descends into smoky grey darkness, inspired by the resort's vibrant energy from hazy warm days into dramatically dark nights. The Ushuaïa Ibiza Beach Hotel hummingbird rests on the front of every bottle, boldly standing out in red against the monochrome day-to-night canvas.
Paul Drake, JDO co-founder and Executive Creative Director commented "We are thrilled to work with elit once again to celebrate their iconic partnership with Ushuaïa. This year, elit's signature clear bottle has been switched for a monochrome aesthetic, mirroring Ibiza nightlife in stylish spirit and creating a truly memorable limited edition. We're staying true to elit's unparalleled dedication to purity, and at the same time, showcasing what sets it apart from other vodkas - its commitment to elevate people's experiences in the nightclub culture of today."
The first 2016 limited edition design was a great success. This earned JDO the winning of the 2017 World Drinks Award Best Vodka Design and subsequent Best Design Agency.
The bottle will be available for purchase at Ibiza airport, Ushuaïa Ibiza Beach Hotel and top accounts in 11 European countries from May.
"With the success of our partnership in previous years, we've set the bar high," said Piet-Hein Schnellen, elit Global Marketing Manager. "But we're expecting the 2017 sequel to reach even more shelves and glasses. We can't wait to toast Ushuaïa's summer visitors whilst we enjoy the world's best music and party scene."
More info: