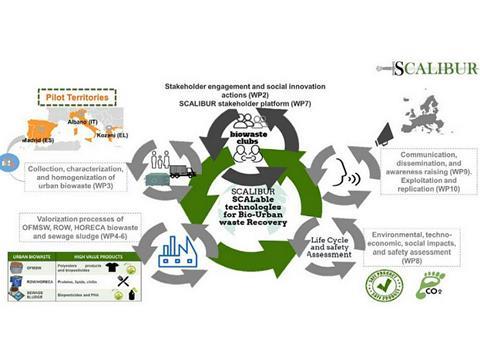 The Packaging, Transport and Logistics Research Center (ITENE) will extend its strategy to promote the transition to a circular economy in Europe with a new project called SCALIBUR, which will promote the recovery of organic waste and its transformation into bioproducts of high-added value, in addition to the PLASTICIRCLE initiative, with similar objectives in the plastic waste sector.
The proposal for the SCALIBUR project was approved by the European Commission on 8 June and must be formally endorsed in the coming months before its implementation. It will be executed between 2018 and 2022 and receive funding through Horizon 2020, the European Union's current research and innovation framework programme.
An acronym for Scalable Technologies for Bio-Urban Waste Recovery, SCALIBUR seeks to bridge the gap between technological viability and industrial applications in the field of urban organic waste recovery, strengthening strategic cooperation between the different sectors. In this way, it will contribute to two European challenges: to reduce deposits in landfills and achieve a circular economy by 2030.
The project is led by ITENE with participation from another 20 partners in nine European countries: Germany, Belgium, Greece, Spain, Ireland, Italy, the Netherlands, the Czech Republic and Sweden. In addition to ITENE, Spanish counterparts include Madrid City Council, the CENER-CIEMAT Foundation and companies Fomento de Construcciones y Contratas and Aeris Tecnologías Ambientales.
The city of Lund will be used as a model for this initiative, transferring its experience inorganic waste collection to three cities: Madrid (Spain), Albano Latino (Italy) and Kozani (Greece). During project implementation, a study will be conducted on the quality, logistics and management schemes of the organic component of municipal solid waste and urban sewage sludge in order to set up innovative systems and technologies and obtain high-value products based onbio materials, such as bioplastics, biofertilisers, biopesticides and proteins for food and animal feed.
On the one hand, solid waste from the hotel, restaurant, and catering sector (HORECA) will be transformed - through the breeding of insects - into proteins,lipidsand chitin. On the other hand, waste deposited in selective collection containers for organic matter and the organic component present in wastewater will allow the creation of biopesticides and bioplastics through a process of high-solids content enzymatic hydrolysis - i.e. the decomposition of organic substances by water action with the intervention of enzymes called hydrolases - followed by a fermentation phase.
In addition, the resulting biogas from both solid waste and wastewater will be transformed through a bioelectrochemical treatment to obtain basic chemical and bioplastic products such as PHBV.
SCALIBUR thus complements the objectives proposed within the framework of PLASTICIRCLE (2017-2021), another project funded by the Horizon 2020 programme and led by ITENE in which a total of 21 partners proposed to study the different phases of waste transformation into valuable products: from designing smart containers for the selective collection of plastic waste to improving transport routes and classification technologies.
The main objective is to achieve the recovery of plastic into the same value chain, applying a circular economy focus, and its results will be tested in the cities of Valencia (Spain), Utrecht (Netherlands) and Alba Iulia (Romania).
ITENE also participates as a member in other circular economy-related European projects, including AGRIMAX, which aims to take advantage of agro-industry sub-products and reuse them in different applications in agricultural materials, food, containers and packaging, and ECOBULK, focused on recycling and reusing composite materials from the automotive, furniture and construction sectors.