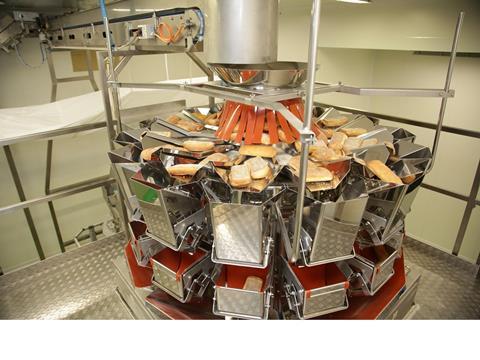 Prior to the installation of the new line, bags were filled using a counting machine and the thermoforming trays by hand, and the accuracy of the Ishida weigher has delivered a major benefit as commercial director Francesco Forte explains:
"Because the individual piece weight of each bread roll can vary quite considerably, the counting method created a lot of weight variation. Thanks now to the accuracy of the Ishida weigher, we can produce packs to a fixed and consistently accurate weight."
The flexibility of the weigher has also enabled Oropan to widen its range of pack sizes – whereas previously the company packed the breads into just a 500g pack, now it also offers 300g and 400g bags. "And what is particularly important is that we are getting consistency across all these pack weights" says Mr Forte.
With 11 different product varieties, the ease of use and programming of the Ishida weigher has been another major bonus. In addition, the line now requires just three people to operate it, as opposed to five previously. Operator feedback has been very positive. "The machine is easy to set up and changeovers can be carried out very simply," says Mr Forte. Oropan also operates a strict hygiene regime with regular cleaning of the weigher both before and after each production run. Reliability has been impressive too, with no stoppages due to performance issues reported to date.
Careful planning of the installation of the new line, with Oropan working closely with Ishida's Italian agent ITech, ensured that there were no problems and everything came together very easily.
"We set out to increase our speed and efficiency and reduce the rates of over and under weighing, and the new line has certainly achieved these aims," concludes Mr Forte.
"Thanks to this, we have been able to bring take our products into the global market."
More info: