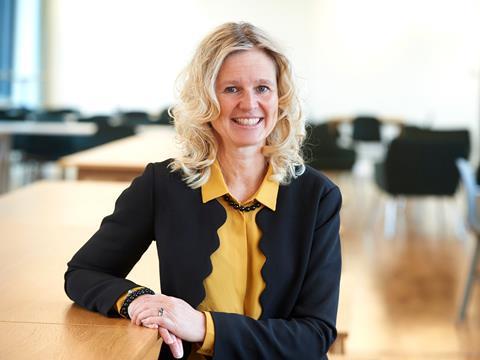 To mark International Women in Engineering Day 2021, Marie Sandin, vice president for projects, engineering and plant automation at Tetra Pak, talks about her experiences and why involving more women in the packaging industry is of the utmost importance.
I have always enjoyed looking at the bigger picture and reaching the big objectives. I became an engineer because I wanted to work on complex challenges with people in diverse teams – and it hasn't disappointed. Tetra Pak has also allowed and empowered me to successfully break into a traditionally male-dominated sector.
After more than two decades at Tetra Pak, I am now responsible for three connected areas: I oversee Tetra Pak's global customer projects portfolio, I have responsibility for project management and engineering capabilities worldwide, and I lead major transformation projects to improve how Tetra Pak operates in the order fulfillment of capital equipment to our customers.
Covering these elements, my role is large and intricate, but I love the high-level view it affords me, and the opportunity to progress Tetra Pak's brand promise to protect what's good.
Innovating from the outset
Tetra Pak is built on innovation – and everyone is encouraged and supported to push boundaries right from day one. Very early on in my career, I was selected to project manage Tetra Pak's first re-closable opening, Tetra ReCap – a significant milestone for the company. It meant a huge amount to be entrusted with the landmark project and was a great opportunity to see the business' full offering and capabilities around the world.
During my time here I have realised the value of working with people in diverse teams. This is a real strength of Tetra Pak's, making sure that there is no gender disparity in the industry. Working together, we can identify and engage the competencies and capabilities for any job. This is key to innovation, and why we continue to be so successful in developing new solutions to meet our customers' needs and that of their consumers.
My first project was very much indicative of things to come. Following this, I continued to be given the opportunity to work on big, transformational projects, including Tetra Pak A1.
Matching engineering skills with customer needs
As I've progressed through my career – the ability to step back and look at the whole landscape has only become more important. I need to be aware of the major transformations going on within our customers' businesses and what challenges they're looking to solve – to ensure we're supporting them every step of the way.
Right now, we're seeing a real focus on sustainability amongst our customer base. It's imperative we support this through our portfolio and our engineering solutions. This means developing food systems that connect to one another and provide customers with high-quality data. This is key to delivering traceability throughout their supply chains and helping them optimise production lines.
Understanding evolving customer requirements is also key to anticipating engineering needs. We have over 2,000 engineers, working in over 2000 customer projects – all of whom need to be equipped with the right tools and training to deliver increasingly advanced, integrated and connected customer plant solutions.
Looking to the future
With oversight of many different areas, initiatives, and projects a year, it would be easy for me to immerse myself in the detail. However, to do my role well, I need to always look forward. For me, this means working towards a vision and a desired future state, such as a fully circular food system with zero food waste, zero losses and zero water consumption.
Reaching this will depend on connecting multiple areas, from land and water food production, to food processing and packaging, retail and distribution, and waste and recycling – including consumption and services. These are important areas for our customers, and areas where our innovation can drive real progress.
Our global food systems are facing many challenges – in terms of climate change, food safety, and hygiene and distribution. We can make a difference in all of these areas, but our impact will be far more effective if we involve more women in the movement.
It may feel like I'm looking at a very big picture, but I have always followed my passion while being positive and finding new opportunities. I believe this is absolutely necessary to direct innovation and ensure we reach our desired future.