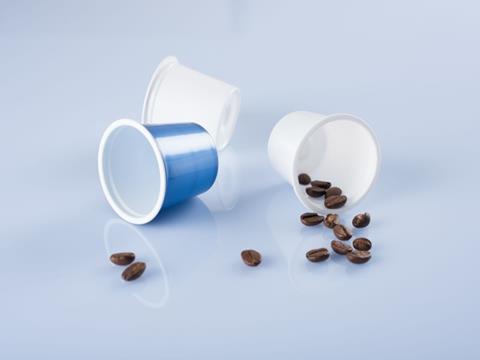 In close co-operation with its parent company Kiefel, Bosch Sprang has developed a new patent pending thermoforming tooling system for the production of polypropylene coffee cups which can be recycled in water separation systems thanks to their material density below 1.000kg/m3.
The new tooling system has been statistically analyzed as well as tested and can be adapted to most tilting bed style thermoforming machines. Consequently, it does not require any special machine adaptions.
The propriety technology is based on several unique and innovative multifunctional elements in the tool that enable and control the realization of very specific mechanical properties of the coffee cups. These mechanical properties ensure problem free usage of the cups in all commercial K-cup coffee systems. The production of cups can only be consistent if the sheet specification, the process parameters and tool are well balanced.
The production line is based on a Kiefel KTR 6.1 Speed, a Bosch Sprang 91 cavity tool and Mould & Matic downstream equipment. With its production capacity around 1 billion cups per annum (24/7) this production system represents Kiefel's ability to provide turnkey solutions.
At the Kiefel-Kuhne Cup Days in March 2018 the production line was presented to the public for the first time. During the NPE 2018 Kiefel will additionally display the K-Cup production of the KTR 6.1 Speed in Orlando Florida. In June 2018 the complete production system will be demonstrated during the Kiefel-Kuhne Cup Days USA at Kuhne in Rhode Island, USA.
Pressure forming machine KTR 6.1 Speed
The KTR 6.1 Speed sets new standards: more power, more forming area, more speed. This leads not just to higher output and new trend products. It also offers the opportunity of processing a wider range of materials like (R) PET, PP, PS, PLA, PE and others, inclusive foamed plastics. The customized automation is completed by a Pick-up Stacker.
More info: