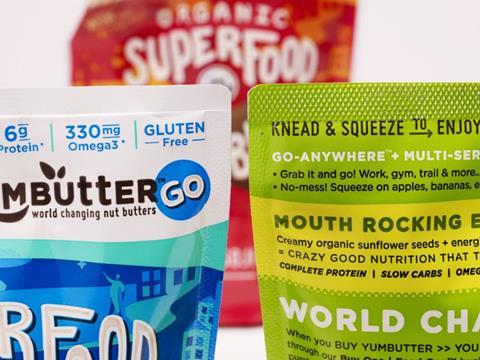 Ultrasonic plastics assembly solutions improve packaging for multiple products with geometrical complexity.
Plastics welding technology capable of solving some of the packaging industry's biggest challenges – from reducing seal failures to meeting high production demands – will be featured as part of Emerson's display of Branson ultrasonic plastics assembly solutions at this year's interpack trade fair in Düsseldorf, Germany.
The trade fair showcases innovative solutions for the food, beverage, confectionery, bakery, pharmaceutical, cosmetics, non-food and industrial goods sectors and attracts more than 175,000 attendees from around the world.
"The assembly technologies are designed to keep customers at the forefront of packaging innovation through improving the performance of various packaging types and ensuring safe, quality products," said Grégory Collomb, Emerson's market segment manager for packaging and textiles in Europe.
"The Branson welder is doing an amazing job: it's producing a very consistent, strong seal. We actually use a stand test at the end of line and literally stand on selected samples to ensure a quality seal, and there have been no failures," said Adrian Reif, co-founder of Yumbutter, a company that uses Emerson's plastic welding technology to seal its nut butter products in a lightweight, squeezable plastic pouch.
Yumbutter had initially relied on a thermal welder to seal its YumbutterGO pouches, but residual oil trapped in the sealed area caused a high level of seal failures. In need of a viable solution, Yumbutter worked closely with Emerson to employ ultrasonic welding techniques that displaced the product from the seal area while quickly creating a strong bond. Using a Branson benchtop ultrasonic integrated welder, the company achieved the necessary weld integrity for its pouches and is now looking to expand its operations with a fully automated, customised packing solution from Emerson.
Branson ultrasonic technology also helped another company, Pocket Shot, overcome its production challenges by producing a sealing solution for the company's single-serve plastic bottles of alcohol. Made from three laminated layers of plastic that simulate a bottle top with shoulder and cap, Pocket Shot's bottle package featured a complicated geometry that was experiencing frequent leaks during high-speed production. After thorough analysis of the company's requirements, Emerson created a contaminant-free seal capable of dispersing alcohol from the seal area and allowing the plastics to join without triggering the flashpoint of alcohol and impeding production. The new seal, produced by a Branson model ST 30 tube/pouch sealer, maintained its integrity during high-volume cycle times, enabling Pocket Shot to produce up to 35 packages per minute.
"Greater competition and scarcer resources are increasing pressure on manufacturers to minimize downtime, improve efficiency, reduce energy, and save material," Collomb said. "Emerson's packaging technologies like the ones on display at interpack 2017, coupled with our application expertise, can overcome these challenges."
More info: