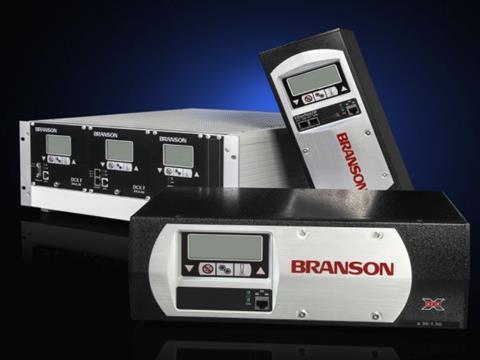 With its headquarters in St. Louis, Missouri (USA), Emerson is a global technology and engineering company providing innovative solutions for customers in industrial, commercial and residential markets.
The Emerson Automation Solutions business helps process, hybrid and discrete manufacturers maximise production, protect personnel and the environment while optimising their energy and operating costs.
Founded in 1890 in the USA, Emerson serves the packaging market through a portfolio of leading technologies, including trusted brands such as Branson Ultrasonics, Appleton, MicroMotion, SolaHD, Rosemount and ASCO Numatics.
Its Branson Ultrasonics brand has served the packaging market for over 50 years. A worldwide leader in plastics welding, ultrasonic metal joining and processing equipment, Branson technology and expertise creates value in customers' manufacturing processes and provides a high return on investment. With over 70 Branson sales and support offices worldwide, Emerson is committed to leading the industry in products, solutions, service and support.
Products on show
Emerson will feature its latest innovations in packaging at interpack in Düsseldorf, Germany in hall 5 at stand H03.
Emerson has a broad instrumentation and fluid automation portfolio that serves the packaging market. At interpack 2017, Emerson will highlight assembly technologies in addition to electrical apparatuses and lighting. Assembly technologies on show will include ultrasonic welding application expertise and technology to keep customers at the forefront of packaging innovation, to reduce seal failures, avoid contamination and minimise waste, such as the Branson 2000X Ultrasonic Welder and Branson DCX Power Supply.
On the stand, there will be a new live-welding demonstration for a beverage top application, using Branson Ultrasonics technology.
Customer-centred
Emerson brings technology and engineering together to create solutions for the benefit of customers. The Emerson team prides itself on its ability to solve problems and be a dependable, trusted advisor to solve challenges, no matter how great or how small.
Combined with a global network of experts, ultrasonic welding technology can provide innovative, cost-effective solutions to help solve some of the packaging market's greatest challenges, including reducing leakage, preventing contamination, minimising packaging waste, increasing efficiency, cutting costs, improving sustainability and delivering innovative packaging designs.
At interpack, the objective is to connect with customers and the packaging market to better understand and solve their challenges.
Eyes on the packaging marketDerek Thomas, marketing director at Emerson, describes the most significant trends, challenges and opportunities driving demand as follows: "We're seeing continued investment in automation to improve productivity. As manufacturers seek to differentiate their packaging, machine builders also look to improve productivity and differentiate their machines. Greater competition and scarcer resources are putting increasing pressure on the market to improve the performance of their operations."
Emerson is well equipped to deal with these challenges, as he points out: "We are responding to the need for operational excellence by enabling builders and manufacturers to minimise downtime, improve efficiency, reduce energy usage and save material."
He concludes by emphasising the company's push to offer the best solutions to its customers: "We are refocusing on the food and beverage, packaging and pharmaceutical markets. With our instrumentation, assembly and fluid automation portfolio, Emerson is making the commitment and investment to serve the packaging space more completely. We are evolving and aligning our capabilities to more fully serve our customers."
More info: