In the latest edition of the Spotlight, Piovan Group tells us about its partnership with PDG Plastiques. At a time when innovation and efficiency are key words, companies are constantly looking for improvements. This includes French company PDG Plastiques, specialising in the design and production of PET preforms, bottles and containers. With two production plants and an annual output of over 2.2 billion preforms, PDG Plastiques is a leader in its field. But what are the enablers of this success?
The needs of PDG Plastiques
With an eye for innovation, PDG Plastiques has faced increasing challenges related to the need to combine production efficiency with the use of recycled raw materials in a closed loop, always with the ultimate goal of a top-quality finished product. PDG needed a technology partner that could provide advanced solutions tailored to its specific needs. Employee training was also a key factor.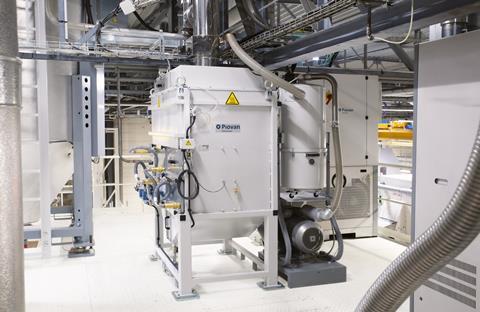 The solution provided by Piovan
Piovan, the world's leading supplier of industrial automation systems, was the answer to these needs. The solution package provided to PDG Plastiques is a real technological enabler:
Winfactory 4.0: advanced software for production process control and management, which eliminates human errors and ensures production repeatability. Winfactory includes Winenergy, an energy efficiency monitoring system that provides a comprehensive analysis of energy consumption in real time, and Winflo, a tool for monitoring and controlling industrial cooling solutions, which turns data into useful information for optimising operations.
Condenso: an oil condenser specially developed for the plastic recycling process. In addition to removing VOCs (Volatile Organic Compounds) from the process air during dehumidification, it also reduces energy consumption to a minimum thanks to a series of technological measures, including:
A heat exchanger that transfers energy from the incoming hot air to the outgoing air, reducing the thermal gap with the dehumidifier with lower costs for both cooling and heating.
High heat exchange coils throughout the cooling system that can further cool the air with minimal water and energy consumption.
SoftBoost: a split heating hopper featuring Piovan's new patented air channeling system, which heats the granule to the core in just 40 minutes to quickly bring it from 120 to 180°C; this innovative hopper, specially designed for rPET, reduces the thermal stress of the resin while preserving its mechanical, chemical and optical characteristics, improving the energy efficiency of the process and minimizing waste production.
Moisture Minder: a system for in-line moisture measurement in plastic granules, with the possibility of storing data for up to 10 years when integrated with Winfactory 4.0.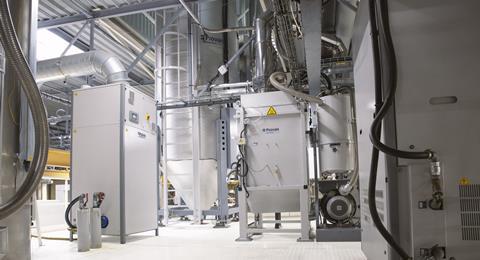 Responsiveness, innovation and efficiency
"Piovan has been a partner for more than 20 years. It is a highly innovative partner and so we benefit from a very high level of quality and productivity, especially when we use post-consumer recycled PET. Our relationship with the team members is excellent because they are both reactive, very attentive to our needs, and they bring us all their expertise to help us with our innovations." These are the words of Mr François Desfretier, owner of PDG.
The integration of the Piovan systems has had an immediate and tangible impact on PDG Plastiques' operations, helping to increase production efficiency and reduce energy costs, while improving the quality of the finished product. In addition, the complete traceability and monitoring of the production process has supported PDG Plastiques in achieving new levels of operational excellence.
Get in touch with our experts
Contact us to find out how Piovan Group technologies can support you in the design and production of top-quality packaging from recycled resins.
This content was sponsored by Piovan Group.