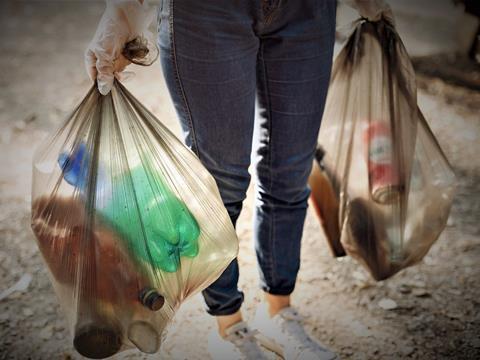 Prominent industry figures have reacted to a recent report published by Greenpeace and the EIA which purports to show that UK supermarkets used 903,000 tonnes of plastic packaging in 2018.
"The rise in plastic found in the supermarket is concerning at a time when consumers are more conscious than ever about the effects of plastic waste on our planet", says Alex Manisty, Group Head of Strategy at DS Smith.
"We urgently need to build on the great work that has already been done to find more sustainable alternatives, particularly for single-use plastics. Work recently commissioned by DS Smith showed that 1.5 billion tonnes of plastic per year in our supermarket aisles could be replaced with alternative renewable materials, like cardboard, that already have a highly effective recycling infrastructure in place," Manisty continued.
However, PlasticsEurope – a body representing European plastics manufacturers – has cautioned against solutions which it argues could be less sustainable in the long run. Patricia Vangheluwe, PlasticEurope's Executive Director, said: "It is important that when seeking to review packaging we do not end up with solutions that are more carbon-intensive and result in increased food waste. Improving resource efficiency of plastics, together with reaching 60% reuse and recycling of all plastics packaging by 2030, are two of the three pillars of our Plastics 2030 Voluntary Commitment."
She continued: "We have a three-fold strategy to tackle plastic waste together with the value chain. We are working to prevent the leakage of plastics into the environment, develop mindful packaging design and boost waste management infrastructure. We need to see waste as a valuable resource with multiple lives."
The report, undertaken by Greenpeace and the Environmental Investigation Agency (EIA), went on to rank UK supermarkets in terms of their sustainability efforts – with Waitrose and Morrisons coming out on top. Aldi, Asda, and Lidl languish at the bottom of the rankings, their plastics policies being rated as "poor".
Elsewhere in the report, EIA and Greenpeace argue that "bags for life" are now commonly seen as a viable single-use option by many consumers, contrary to their intended use. In particular, Tesco's sales alone represent almost 11 "bags for life" for every person in the UK. And, despite increased trialing of refillable and reusable solutions, seven out of ten supermarkets still reported using a greater amount of plastic packaging in 2019 compared to previous years.
The full report can be read here.