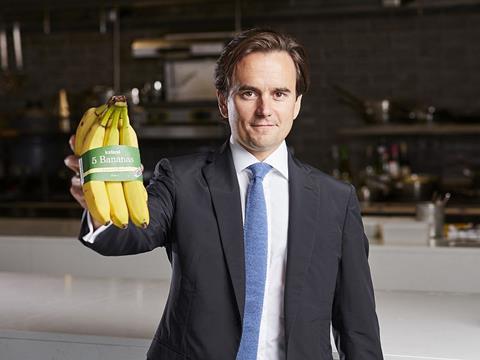 Frozen food specialist Iceland has become the first UK supermarket to introduce plastic-free packaging for its pre-packed bananas. Iceland's bananas will now be packaged in a paper band which is recyclable and made from recycled paper - a decision that reflects the core of the waste vs resource efficiency dilemma facing the industry.
The change will save 10 million plastic bags from being used by Iceland each year. However, questions will be raised about the impact on product waste (and therefore carbon emissions) of replacing packaging with an oxygen barrier with packaging that only has an aggregation function.
The new packaged bananas will be the first product in any major UK supermarket to bear the Plastic Free Trust Mark, launched by A Plastic Planet earlier this year. Iceland was announced as an early adopter of the mark, which informs and empowers consumers to make plastic-free choices.
This latest move represents a milestone in Iceland's commitment to remove plastic from all own label packaging by 2023, and an example of how the retailer is working to find plastic-free packaging solutions across its ranges.
Iceland has made significant progress since making the commitment in January 2018 and has already removed 850 tonnes of plastic per year from its own label packaging, principally by the replacement of black plastic with paper-based trays for frozen meals."
Richard Walker, Iceland's managing director, said: "Since making our commitment to remove plastic from our own label packaging, we have been working hard behind the scenes to find plastic-free alternatives. People have become so used to buying their products wrapped in plastic, or indeed using plastic bags for loose produce, and this has to stop if we are to turn down the tap on plastics. We're creating impetus for that change in consumer habits through the use of innovative solutions."
"This move alone will have a significant impact on our plastics consumption and is one of the first of many solutions that are in development. Our customers support our move to reduce single use plastic and we are pleased to share this important milestone, with many more to come."
Iceland is at the forefront on leading the fight against the scourge of plastics and has already taken significant steps to eliminating the material from its 900 plus stores across the UK. Plus, it has trialled a number of industry leading initiatives to support plastic reduction and recycling.
The retailer is currently trialling paper and reusable post-consumer waste plastic bags in replacement of single-use carrier bags, with the aim of understanding consumer perceptions and appetite for an alternative.
Earlier this year, Iceland also became the first UK supermarket to install a reverse vending machine in store, incentivising customers with a 10p voucher to be used in store for each plastic bottle deposited for recycling.