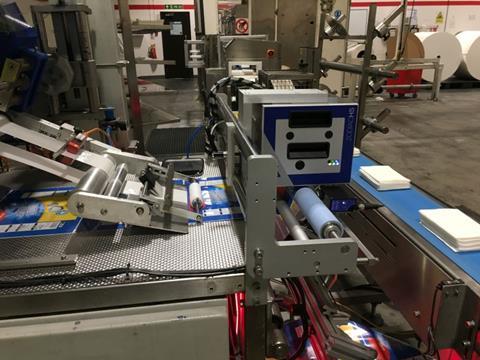 Reduced waste, mess, and downtime are the key benefits of state-of-the-art coders from Interactive Coding Equipment (ICE) selected by Rockline Europe, a leading international provider of high-quality, low-price FMCG goods, for its factory in Redditch.
In replacing its existing CIJ coders, Rockline was seeking cleaner and more efficient models which had the capability to keep up with line throughputs. In particular, with any downtime being extremely costly, the new coders had to be reliable and able to operate consistently at high speeds.
The solution was the installation of 13 ICE Zodiac thermal transfer coders and nine ICE Viper thermal inkjet printers. The Zodiacs are used for primary packaging and the Vipers for secondary packaging.
The patented bi-directional ribbon drive of the ICE Zodiac allows unused ribbon to be recaptured following each print, maintaining a 0.5 mm gap between prints to create more prints per roll and ensuring the highest efficiency of use. The ICE Viper can print up to four lines of text at 600dpi resolution as well as barcodes, 2D data matrix codes and logos. It offers easy set up and maintenance-free operation thanks to its simple-to-replace ink jet cartridge system.
The machines are delivering improved efficiencies through their excellent performance and reliability which has led in particular to reduced waste, mess, and downtime in comparison with the company's previous coding machines. "Rockline is a highly automated high volume low-cost manufacturer, and the ICE machines are reliable and can keep up with the demands of our operation," explains Simon Neale, UK General Manager at Rockline.
Another benefit is the machines' ease of use. "Our operators find it easy to get to grips with the ICE printers through their simple-to-use touchscreen interface," confirms Simon. "Consumable changeovers are also fast and simple with the Zodiac's quick ribbon change and the Viper's easy-change cartridge.
"ICE has a reputation in the industry for reliable products and responsive service, always being at the end of the phone when you need them, along with comprehensive aftercare including good consumable and maintenance support," he continues. "All these factors, together with the more efficient and cleaner operation of the machines, were instrumental in our purchasing decision."
Rockline Europe produces over 220 million individual packs of wipes per year. Among these are over-the-counter antibacterial wipes, adult incontinent wipes, and household cleaning and disinfectant wipes.
"Further down the line, we intend to forge ahead with new line development, so there is room for even more work with ICE," concludes Simon. "This includes expanding our range of ICE products."
More info: