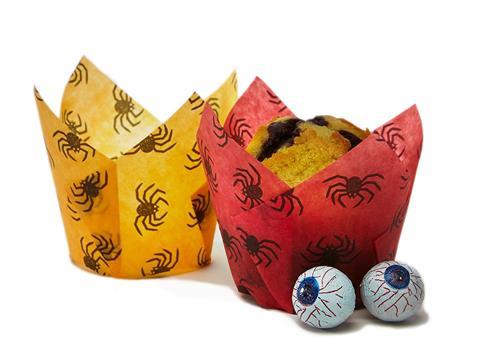 A Halloween-themed promotion by food packaging specialist, i2r Packaging Solutions, is being used to highlight their growing tulip muffin wrap range and the use of print on their paper products to boost seasonal marketing and on-demand personalisation. Produced in i2r's FSC and BRC accredited factory, all muffin wraps are available in printed sheet and in a variety of colourways.
i2r 's Guy Rowledge said: "In addition to branding, personalisation and messaging to create product differentiation and shelf stand-out, we are able to provide printed paper products to cover all seasonal events during the year, such as Halloween,- as in this case, Christmas, Valentines and Easter. And by having a well invested manufacturing facility, we can react quickly to demand and deliver customers' packaging requirements in good time and within budget."
Since launching their baking division in 2016, the firm has become the only UK manufacturer to provide the baking industry with a single source for both aluminium foil containers and FSC® certified paper products, which include siliconised and printed greaseproof sheets. Manufacturing a 'family' of wraps to suit all requirements, i2r continue to develop their paper products to meet increased and varied demand, particularly from the food-to-go sector.
Operating as part of the Italian Laminazione Sottile Group - one of the leading global suppliers of aluminium products - i2r's core business is the manufacture of wrinkle wall and smooth wall semi-rigid aluminium foil containers used throughout the food industry.
More info: