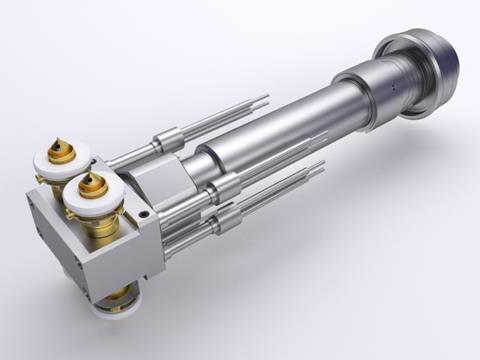 Husky Injection Molding Systems, a leading industrial technology provider to the plastics processing community, has announced the commercial release of its Ultra SideGate™ Inline hot runner technology.
The Ultra SideGate™ Inline hot runner was designed and optimized for challenging applications with high-balance requirements such as long, thin parts and is ideal for part spacing as low as 18mm. By taking advantage of the optional individual tip control technology, molders can ensure that their challenging applications have the best part quality possible.
The new Inline option provides all of the same benefits and features of Husky's standard Ultra SideGate™, which allows for high cavitation molds with a small footprint, reducing cost while providing outstanding gate quality and offering mold makers added design flexibility. "Hot runners are the most critical component in the injection molding process. This is why we are so focused on improving hot runner design and performance while also finding ways to help customers reduce their cost. Ultra SideGate Inline is another example of an innovation that accomplishes this goal," said Stefano Mirti, Husky's President of Hot Runners and Controllers. "This new technology provides the same superior part quality, speed and efficiency that our customers have grown accustomed to with the added benefit of tighter part spacing."
By direct-gating parts with Ultra SideGate™, molders can achieve significant resin savings, faster cycle times and better performance across a wider temperature range. In addition, the technology allows direct access to the individual tips without needing to remove the mold from the injection molding machine, saving molders time on maintenance.
Superior part qualityUltra SideGate™ Inline offers exceptional gate quality leaving virtually no vestige on finished parts (~0.05mm vestige). By allowing for the use of a single-piece cavity in the design of the mold, the quality issues that often accompany split cavity designs are avoided, such as flash on finished parts that can occur if the cavities are misaligned. This is particularly critical in the medical industry where safety is paramount and sharp edges can be detrimental. Ultra SideGate™ Inline is also ideal for complex applications that require technical resins such as automotive connectors.
Ease of Installation and MaintenanceUltra SideGate™ Inline is simple to install and easy to maintain. Nozzle tips are mounted separately from the nozzle housing into one-piece cavity inserts before hot half assembly. This approach eliminates the impact of thermal expansion on tip position which can impact balance and gate quality.
Maximum productivity with minimum footprintIn order to minimize footprint to allow for maximum number of mold cavities in the smallest mold, Ultra SideGate™ Inline offers pitch spacing down to 18mm. Ultra SideGate™ Inline also includes our patented UltraSeal® technology with three-year leak-proof guarantee. As with all Husky hot runners it performs consistently with a wide variety of challenging resins.
Ultra SideGate™ Inline will be on display next at the Husky booth at the Fakuma show in Friedrichshafen, Germany from October 17-21, 2017.
More info: