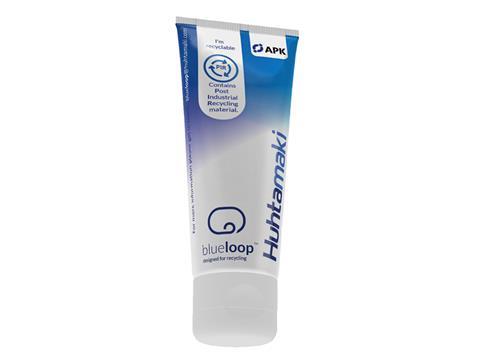 Global packaging manufacturer Huhtamaki has revealed a successful collaborative project with APK AG on incorporating LDPE recylclate into its laminated tubes.
"We recently succeeded in integrating the first quantities of recycled plastics into one of our standard plastic barrier laminate for tubes," says Thomas Stroh, R&D manager at Huhtamaki Flexible Packaging Europe. "This development brings us a major step closer to contributing to the EU's packaging recycling targets for flexible packaging formats."
This innovation was facilitated by Mersalen, a polyethylene (PE) recyclate produced by APK AG. The company uses its solvent-based Newcycling technology to generate Mersalen from complex polyethylene and polyamide multilayer film waste that it says is difficult for most conventional recycling processes to recycle.
"The quality and purity of our LDPE recyclate shows properties close to virgin plastics and is suitable for a wide range of packaging applications," says Florian Riedl, APK AG's director of business development.
The tube produced with Huhtamaki's laminate contains 19% Mersalen recyclate and, according to the company, its performance is nearly identical to standard PBL structures produced with virgin LDPE.
The R&D unit at Huhtamaki Flexible Packaging Europe plans to further increase the percentage of recycled content in their products and will test recyclates based on different feedstock streams.
"When it comes to our waste feedstock streams, APK is looking into all options. We are producing recyclates from post-industrial material, we research compounds of post-industrial and post-consumer streams and, of course, we ultimately aim to provide excellent quality from post-consumer mixed plastic waste," says Riedl.
Currently, LDPE-recyclates based purely on post-consumer waste and suitable for food and cosmetic packaging, which requires food contact compliance, are not yet available on the European market. Huhtamaki and APKsay they are cooperating closely to solve this challenge.