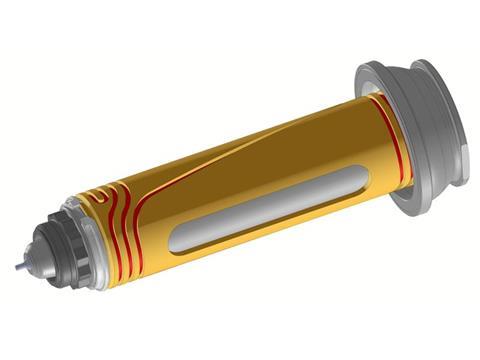 At this year's Moulding Expo at Stuttgart/Germany, Italian hot runner specialist HRSflow will present a new family of hot runner solutions for multi-cavity molds on Booth D41 in Hall 6.
The multicavity series is suitable for the large-scale production of injection molded products wherever short cycle times and high surface quality are specified, for example in medical applications, cosmetic articles, caps and closures, and packaging. In addition, HRSflow will show visitors some of the latest results from its partnership with Plastic Technologies, Inc. (PTI), a global leader in plastic packaging development for single-serve beverage and food capsules.
The hot runner nozzles of the Reinforced range are designed for high injection pressures and are suitable for thin and thick-walled applications. Furthermore, they are noted for the very high wear resistance of the nozzle tips. They are available in three specifications: Reinforced-T, Reinforced-M and Reinforced-S.
• Reinforced-T has been developed specifically for the injection molding of thin-walled articles. These nozzles are also suitable for decorative injection molding using the IML process (in-mold labelling). Because of their shape and homogenous temperature profile, very high injection speeds and thus short cycle times are possible. This prevents overheating and thus damage or discoloration of the IML label and therefore ensures high process stability. • The Reinforced-M nozzle is ideal for processing polyesters into thick-walled parts with a high-gloss surface, e.g. cosmetic packs, household articles or products for medical technology. Here, wall thicknesses of 20 mm and more can be produced without problem. • Reinforced-S nozzle has also been developed for thick-walled injection molded parts with a wall thickness of up to 20 mm. This nozzle has been designed specifically for the injection molding of Surlyn®, a highly transparent packaging material from DuPont™.
A recent application example for the new hot runner nozzles of the Reinforced range is a cover cap for spirits, molded in PP filled with Fe2O3 and then partially metallized. Because the material is very abrasive due to the filler, the nozzle tip needed to have high wear resistance. The molded part has a wall thickness of up to 8 mm at the gating point and weighs 19 g. It must have neither sink marks nor flow lines nor any mat or shiny areas so as to ensure a uniform, high-quality surface after metallization.
Reduced time-to-market for beverage and food capsulesIn view of the explosive growth of single-serve beverage and food capsules, HRSflow and Plastic Technologies, Inc. (PTI) set up a partnership in 2016. The aim is to offer brand owners a turnkey solution for commercializing their products. The significant technical knowledge both companies have in this area will help improve the speed to market and drive commercial success.
More info: