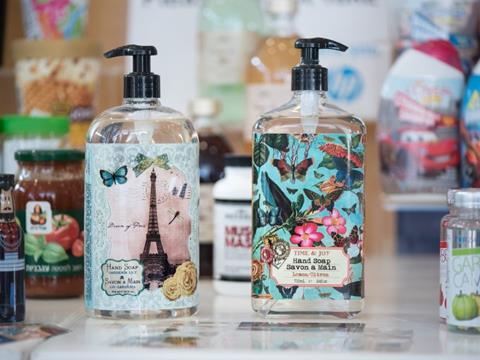 At Labelexpo 2017 in the Hall 5 Patio, from September 25-28, HP is demonstrating all its new capabilities, including the HP Indigo WS6800 Digital Press integrated with the HP Indigo GEM, HP Indigo 20000 Digital Press with HP Indigo Pack Ready Lamination for flexible packaging production enabling immediate time to market, and the HP Indigo 8000 Digital Press, the most productive narrow-web press in the industry2 . In a store-environment experience, HP Specialty Printing Systems (SPS) OEM partners will demonstrate solutions based on the new SI-1300 desktop labeling print engine and other technology.
Any label for any job, printed digitallyInline with the HP Indigo WS6800, the HP Indigo GEM is a fully digital one-pass printing press for embellishing with foil, screen, tactile, varnish and other special effects, using one workflow, one operator, and one design file without the need for tooling. The HP Indigo GEM utilizes GEM Coat and GEM Clear, sold by HP Indigo. Developed with JetFX, shipping of the GEM is expected to begin in the spring of 2018.
New opportunities with high-resistance labels
Pack Ready for Labels is a new solution supporting the production of high performance, high-resistance labels to help meet the industry's highest standards, including for household and chemical products. It includes an upgraded Inline Priming Unit as an option on the HP Indigo WS6800 Digital Press and supplies including varnish and primer that will be sold by Michelman.
The new Inline Priming Unit also delivers enhanced press utilization, and better serviceability.
Innovation in inks
HP Indigo also announced a new HP Indigo ElectroInk Silver, now in beta customer testing. The new ink formula is capable of generating a wide gamut of metallic colours, combining metallic effects with digital capabilities in one printing process. The new ink is set to expand the application capabilities enabled by HP Indigo's technology, and open a new field of package design opportunities for converters and brands to stand out on the shelf.
New tools for workflow and automation
The HP Indigo WS6800 together with the HP Indigo GEM will be powered by the new HP Production Pro for Indigo Labels and Packaging. With five times faster processing, HP Production Pro delivers higher productivity, scalability and simplicity for any job, including handling large volumes of variable data printing.
HP Production Pro enables converters for the first time to scale their business, and centrally manage fleets of HP Indigo label presses, while connecting the press to automation tools including HP PrintOS, MIS systems and the Esko Automation Engine QuickStart for Labels.
Also announced at the press conference, HP Indigo and Esko are beginning an enhanced cooperation following a successful 10-year relationship. HP and Esko have incorporated the Esko Color Engine into HP Production Pro and are extending the cooperation to resell the new Esko Automation Engine QuickStart for Labels, an entry-level solution that optimizes printing and allows converters to ramp up prepress productivity in a simple and cost-effective manner.
HP PrintOS new applications and features for labels and packaging released at Labelexpo include:
• PrintOS Jobs, for production monitoring and jobs' tracking
• PrintOS Site Flow, for production of high-volume of short runs and personalized labeling
• PrintOS Box, a file exchange which simplifies print file receipt and content validation
• PrintOS Service Center, a single point of access to all service tools
HP labels and packaging momentum
With more than 1500 labels and packaging presses installed worldwide, HP is leading the industry's transformation. The latest installation of an HP Indigo 8000 Digital Press at Belmark underscores the move by converters to fully digital production.
HP also announced the sale of the 100th HP Indigo 20000 Digital Press for flexible packaging. The 50th HP Indigo 30000 for folding cartons was recently installed at Cartoffset in France.
Brands around the world are enjoying the benefits of HP Indigo customer's capabilities:
• Eat the Bear. US converter Toflight produced a Digital Excellence Award winning label for the launch of Eat the Bear's Cinco de Mayo special flavour. The label was printed on metalized polypropylene substrate with matt and gloss varnish, causing maximum shelf-appeal.
• Tang. In a campaign that connects family moments with the flavoured drink, Tang printed flexible packages featuring 110 different family photos submitted by customers on a total of 15 million sachets of 5 different flavors, using Camargo Cia de Embalagens' HP Indigo 20000.
• Romantics, a brand of fresh juices and vegetables drinks with 140 different and frequently changing designs, each with a different story, picture and creative message, is benefitting from exact run-lengths and value for on-time delivery.
More info: