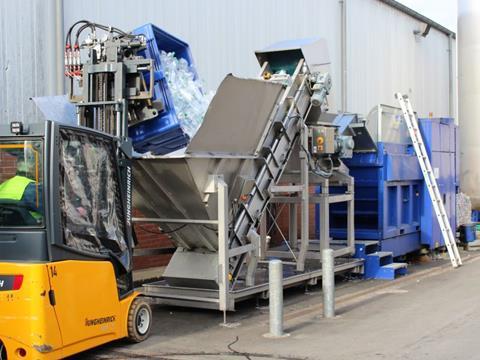 According true to the motto `fast and economical compaction´ Strautmann presents different waste disposal solutions at the drinktec exhibition in Munich. Find the company in hall B4, Stand 512
Focus: Emptying, devaluation and compaction of beverage containers like PET bottles, TetraPak® and beverage cans. With the dewaterer `LiquiDrainer®´ containers can be emptied and devalued. The LiquiDrainer® pricks into the beverage containers so that the liquids flow out. The material is perforated and not shredded. The rotor thus has no wear. The residual liquids pass through a coarse filter and can be market for example to biogas plants. Thanks to the separation of liquid and packaging no particles enter wastewater.
In the next step the material is compacted with bale or briquetting presses. A fully automatic compaction of the beverage containers into high compacted bales und briquettes saves space and costs. Recyclable materials can be sold with high revenues.
Strautmann customer from beverage industry 'Hansa-Heemann, in Germany Löhne' reports enclosed of the complete disposal solution of PET, cardboard and film:
Hansa-Heemann AG is a manufacturer of non-alcoholic soft drinks with production locations in Trappenkamp, Lehnin, Löhne and Bruchsal in Germany. In Löhne in three-shift operation 400 million beverage cans are filled. Before Hansa-Heemann decided to use Strautmann Umwelttechnik for PET bottle disposal they have already compacted film and cardboard with Strautmann presses for more than seven years.
Fast and save emptying of PET bottles 'While producing mineral water and sweet beverages residual liquids need to be disposed of economically and ecologically. Our PET bottles are now drained and compressed economically by using the Strautmann LiquiDrainer® and BaleTainer®' says Thomas Hartsieker, Plant Manager, Hansa-Heemann AG. Disposal process: The accruing PET bottles are being collected in Hansa-Heemann containers and lattice boxes and then brought to the outside waste disposal area, where an employee takes care of the bottles. Using a forklift the boxes are lifted and tilted into the hopper of the LiquiDrainer®. Via a conveyor belt the PET bottles are beeing transported into the LiquiDrainer®, which empties and devalues the bottles. The emptied and already precompressed PET bottles are transported from the LiquiDrainer® directly into the full automatic baler BaleTainer® and are beeing compacted into direct marketable bales. Mr. Hartsieker tells: 'The whole plant LiquiDrainer® with downstream BaleTainer® pays off for our company. High time and cost savings allow a quick amortization of the investment.'
LiquiDrainer® function: With the LiquiDrainer® emptying of PET bottles by hand is gone. Your employees can focus on the core business and work faster and more efficient. Thanks to special rotor technology and a throughput of up to 7,000 liters/hour approximately 120 bottles can be emptied in one minute. The beverage containers are emptied and devalued so that no abuse can be carried out.
Ecological and economical disposalHow did you come to change?'During bottling beverages rejected goods accrue in the production that need to be disposed of ecologically. As well as full and also empty PET bottles are totally emptied and compacted before they are recycled. In the past the whole process was handled by a disposal company. We wanted to keep this value in our own company. Mr. Yilmaz who is responsible for the disposal has intensively dealt with the topic of economical disposal and we have finally decided for the disposal concept of Strautmann. The insertion of the bottles, the emptying and compaction into recyclable waste makes us independent of disposal companies.' Thomas Hartsieker, Plant Manager, Hansa Heemann AG. Before: 'Cardboard, film and PET were previously stored in troughs with a filling capacity of 7-30m³. Up to 15 troughs were positioned inside production and warehouse. The accruing material was inserted manually. Due to loose collection of the material the filling volume of the troughs was exhausted very fast and they needed to be placed outside to be picked up constantly. ' Ender Yilmaz, Disposal, Hansa Heemann AG: 'In one trough about 500kg of loose film was accumulated.'
Saving of logistics expensesWith compaction by a baler now about 8-10t can fit in one trough. 'With Strautmann the waste management concept of the resulting cardboard, film and PET bottles is designed economically, efficiently and employee-friendly.'
In production three multi-chamber balers now create order and cleanliness. The presses enable sorted compaction of cardboard and film. The high-compacted bales of the presses are then taken to a hopper by a forklift truck and picked up by the disposal company.
The installation of the balers directly at source reduced lots of walking routes and made the work more efficient.
Advantages:
• Time savings due to shorter walking ways
• Logistical advantages due to shorter transport routes and less forklift movements
• High revenues for direct marketable bales
• Employee satisfaction
• Order and cleanliness
Visit Strautmann at Drinktec in Munich, Hall B4 Stand 512
More info: