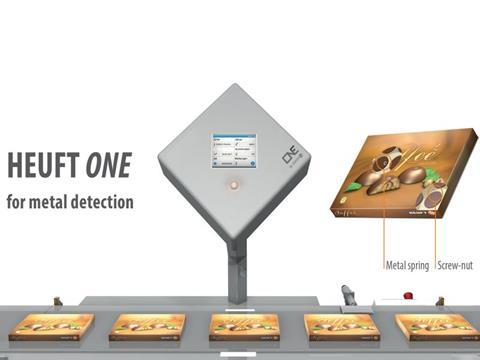 The devices of the new HEUFT ONE series set new standards in terms of detection accuracy, operational reliability and price / performance ratio during an in-line quality inspection in a confined space, and celebrated their world premiere at interpack.
The first metal detector and an inspection system for markings up to HEUFT standards can be experienced live at the trade fair.
ONE for all: the new products make an affordable introduction to HEUFT cutting edge technology as particularly compact stand-alone devices which are extremely easy to integrate into packaging lines. They combine innovative detection technologies with customised hardware and software and proven procedures for a highly precise product tracking, inspection and fault rejection. Thus the compact complete solutions remove contaminated products and incorrectly marked packaging accurately; food safety has priority!
The HEUFT ONE for detecting metal achieves maximum detection accuracy with unique evaluation procedures from the HEUFT development department: it even finds minute pieces of metal in filled food packaging reliably – almost unaffected by the product effect of saline or acidic products and the influence of metal packaging components. Even special ambient conditions such as a "metal free zone" are not necessary for the reliable operation of the compact stand-alone device.
The first HEUFT metal detector complements the portfolio of sophisticated systems, which identify all types of foreign objects, with a slim entry-level solution. It is ideal for all those who only wish to find objects made of iron, steel, aluminium or stainless steel first and want to achieve a detection and rejection reliability up to HEUFT standards.
The new HEUFT ONE for code verification, marking and dress inspection also provides this during the high-resolution complete examination of food packaging with in-house developed colour sensor camera technology and real-time image evaluation. It detects best before and expiry dates, barcodes and 2D codes, article and serial numbers, imprints and lettering which have been incorrectly applied and are inaccurate as regards content – and that independent of their respective position. The same also applies to deviating logos as well as non-brand colouring and design elements. Proven HEUFT procedures also ensure the accurate removal of incorrectly marked products in this case. Full traceability, clear information about shelf-life and digestibility as well as an attractive appearance at the point of sale are thus always guaranteed.
The solid, extremely compact construction in accordance with the hygiene-optimised HEUFT CleanDesign also makes the new HEUFT ONE devices stand out. They are straightforward to integrate into existing packaging lines even where space is limited. The HEUFT ISI bus ensures minimum wiring with the open, flexible assembly directly above the conveyor. Dispensing with change parts makes easy brand changes without mechanical changeovers possible and the organised user interface, which has been reduced to the essentials, ensures error-free operation. This together with continuous monitoring brings the metal detection and code verification in line with HEUFT standards.
More info: