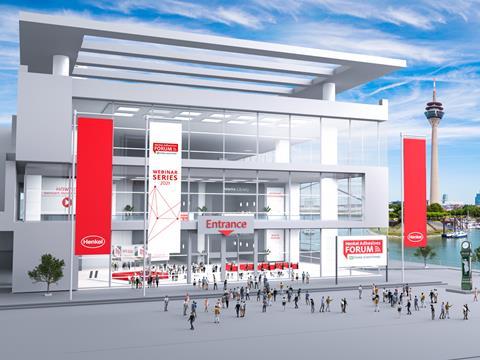 Henkel has launched its virtual knowledge hub, a new online space in which visitors can learn about and discuss key topics in the packaging and consumer goods industry.
The Henkel Adhesives Forum will showcase live presentations, on-demand webinars, in-depth white papers, and live interaction, with a focus on topics like sustainability, circular economy, health and safety, and more.
The new platform builds on Henkel's Sustainability Forum event – evolving this virtual trade show format into a resource for customers, partners, and interested stakeholders.
Visitors can watch Henkel expert webinars on-demand in the media library. Sharing expertise and knowledge, the webinars cover a breadth of topics from cutting-edge research, to regulatory challenges, to hands-on experience from the production line, supply chain, and beyond.
Henkel plans to further expand this resource with the launch of an all-new webinar series in June 2021, presented live in the auditorium section of the Forum.
The new webinars will cover topics such as EU regulations on single-use plastics, use of adhesives and recycled materials in food packaging, and solutions for improving sustainability across the value chain.
Further practical support is available via the showroom, where information on market-specific adhesive solutions and sustainability is presented in virtual booths. There's also the opportunity to network and get in touch with peers in the industry in the meeting area.