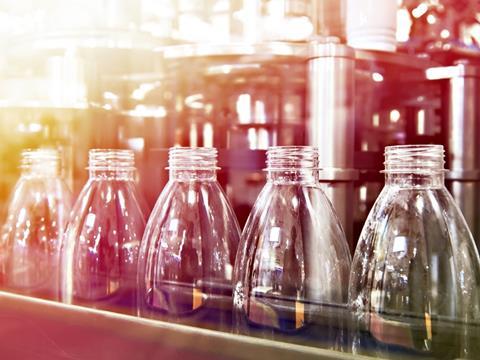 In this edition of the Spotlight, H.B. Fuller discusses collaborating with partners across the beverage supply chain to offer adhesives formulated specifically to facilitate easy label wash-off and allow for higher quality recycled PET yields.
It's part of our DNA: the power of collaboration with our customers and strategic industry partners
New advanced beverage packaging solutions are the result of collaboration with our customers and strategic industry partners. Our innovative adhesive solutions are used to bond all types of beverage packaging. When designing packaging solutions, we enable efficiency and machinability with reuse and recycling steps driving the circularity of materials and overall dematerialization.
How? We are ready to collaborate with everyone in the beverage packaging industry and innovate with our partners and customers to deliver adhesives that support beverage packaging makers' goals. And over the last few years, we have built a strong track record. We have cooperated with partners across the supply chain, including global brand owners, machinery manufacturers, glass and PET suppliers, paper and board manufacturers, and many others. We firmly believe that collaboration upstream and downstream will drive advances in circular packaging design and manufacturing.
Our collaborative innovation work is focused on developing sustainable solutions that enable our beverage customers to achieve improved packaging functionality and progress towards achieving their sustainability and circular packaging goals.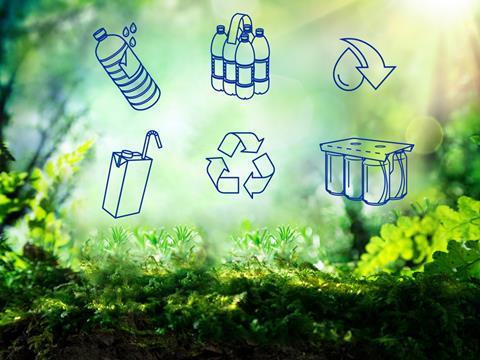 Significant influence adhesives have on the recyclability of bottles
Our scientist-designed adhesives are formulated specifically to facilitate easy label wash-off. They are receptive to the detergent and release the label quickly and completely from the glass or PET (polyethylene terephthalate) container. After the useful life of the labelled bottle, where it has withstood condensation and ice water, the label needs to be washed off for container reuse or recycling. How easily the label washes off depends on many factors, such as ease of penetration of the wash water through the label, water temperature and detergent levels in the water, and importantly how easily the adhesive releases from the bottle.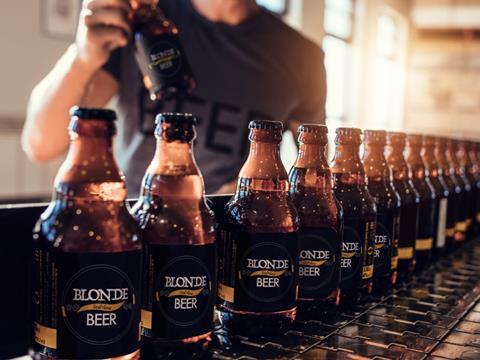 New adhesives for labelling support circular economy design
Collaborating with a major European brewery, we successfully developed H.B. Fuller advanced water-based labelling technology that enabled them to reduce the amount of adhesive on each bottle, while reducing the water temperature required and detergent consumption during the bottle washing process.
PET beverage containers require high-quality recycled PET (rPET) to ensure consumer safety, while achieving the increased use of rPET in beverage bottles. The adhesive selection for PET labelling is critical for the recycling supply chain. Collaborating with multiple key players in the rPET supply chain, we successfully developed a portfolio of H.B. Fuller hot melt adhesives for PET labelling that enhance the recyclability process and boost the quality of the rPET. Our hot melt adhesives can help our customers design for recycling and reduce their PET labelling operation complexity.
H.B. Fuller multipack bundling solutions
Beverage containers are commonly bundled in multipacks using high cones, plastic stretch wrap or cardboard wraps. Brand owners have begun to use alternative multipack bundling solutions to facilitate recycling and eliminate unnecessary materials, while maintaining brand and pack integrity. Collaborating with major industry players, our innovative Advantra® hot melt adhesives enable brand owners to bundle multipacks of aluminium cans or PET bottles eliminating high cones or stretch wrap. Multipacks bonded with Advantra® have the essential pack stability, separate easily for consumption, and are easily sorted for recycling by the consumer.
Through the power of collaboration with our customers and strategic industry partners, we are delivering improved and advanced labelling and supporting our customers' sustainability efforts.
If you want to do more with less, collaborate with H.B. Fuller and fast-track your sustainability initiatives.
http://www.hbfuller.com/sustainable-packaging-solutions
LimitlessLabelling@hbfuller.com
This content was sponsored by H.B. Fuller.