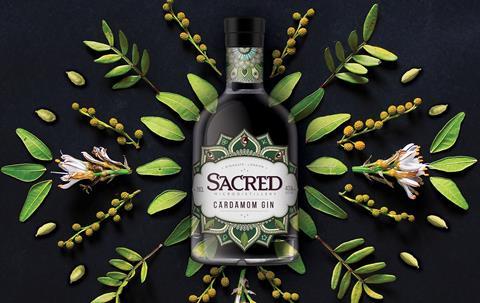 Hart & Jones have redesigned one of Sacred Spirits' most important offers, their cardamom flavoured gin, with the new packaging being launched to the high end on-trade outlets in May 2018.
Sacred Spirits are a boutique distiller who started producing a critically acclaimed range of spirits from a residential house in Highgate North London in 2008. They have grown to be a leading premium producer and their reach now extends beyond the UK to key markets in Japan, Europe and the USA.
Simon Jones, Managing Director at Hart & Jones, explained the rationale for the redesign. "Previously, all of Sacred's gins' design followed a very simple varianting formula. From a business point of view, this limited the appeal to the trade of stocking a wide range with little to differentiate the different flavours. Furthermore, from the consumers' perspective, the individual stories and flavours of the gin were not being communicated, reducing engagement and appeal. The new design (and bottle) creates a unique identity for the cardamom product whilst clearly communicating the intrinsic brand values of Sacred."
Chris Hart, Creative Director at Hart & Jones, talks about the inspiration for the design.
"Sacred's gins deliver uniquely aromatic and fresh flavours by using vacuum distillation, which means the distillates are not cooked like a domestic soup but 'boil' at only 30C. We believe that flavour and aroma are the DNA of Sacred and we wanted to bring this to life for each gin we work with. Cardamom is a unique spice rich in myth, superstition and mysterious fables. The design invokes the mysteries and intrigue of the Orient as well as the complexity of the flavours. It is vital that in the cluttered gin market the design reflects both the characteristics of the flavour profile and also Sacred's unique approach to distilling"
Sacred's co-founder, Hilary Whitney, added "Hart & Jones have created a design of great beauty that is already achieving impressive results with our trade partners. We are delighted with their strategy that puts flavour and aroma at the heart of the brand."
This redesign by Hart & Jones follows on from their mould-breaking design for Sacred Whisky
More info: