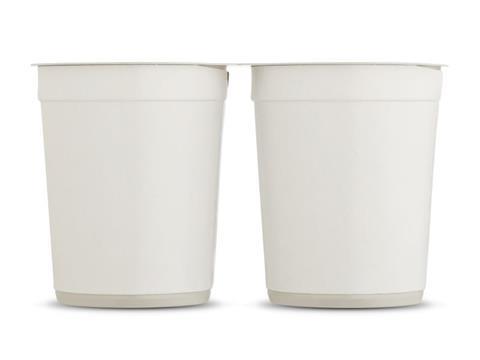 Greiner Packaging's K3® yogurt cup is made from a cardboard-plastic combination that can be printed on. This particular cup is now the focus of a project carried out by Greiner Packaging in Switzerland to highlight the recyclability of polystyrene (PS). The goal of the project is to manufacture food packaging from recycled PS.
The company says that this project marks the first time that 100% mechanically recycled PS has been combined with 100 percent recycled cardboard. The complete solution was tested on the typical Swiss yogurt twin packs – and the results are "very promising".
The high levels of purity reached by PS in tests demonstrate its suitability for mechanical recycling. In fact, mechanically recycled PS boasts 99.9 percent purity and thus has the potential to achieve food-grade status. While the PS recycled plastic used in these tests has yet to be approved for food contact applications, the initial trials offer proof that Greiner Packaging is already capable of producing yogurt cups with 100 percent mechanically recycled PS. Certification of the material is already underway. This pilot project was facilitated by Styrenics Circular Solutions (SCS), the value chain initiative to realize the circular economy for styrenic polymers.
Sustainable measures for r-PS are currently focused on the benefits of using mechanically recycled PS: a low carbon footprint thanks to sustainable materials and the creation of closed material loops. In other words, the recycled material does not need to be mixed with virgin material – so a sustainable overall concept can be realised without difficulty.
"The goal of obtaining food contact approval for 100 percent mechanically recycled PS and its process can only be achieved with the involvement of many companies across the entire value chain. Our activities in this field are currently focusing on our initial tests with a customer in Switzerland," explains Tobias Strasser, Managing Director at Greiner Packaging Diepoldsau in Switzerland.