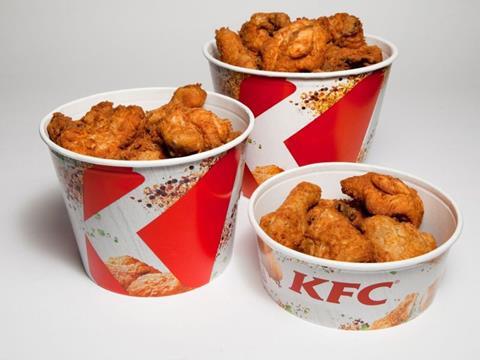 The award-winning, plastic-free food bucket is being presented to Packaging Innovation visitors on the Graphic Packaging International stand (A24) at the 2018 show (NEC, Birmingham, February 28 – March 1).
It will be the first time this revolutionary product has been shown at a major industry exhibition anywhere in the world.
The paper-board food bucket was launched following a two-year R&D project involving pioneering new materials and new processes. It uses a robust, resistant lining instead of a traditional polyethylene (PE) lining, which improves the presentation of food in the bucket by preventing the build-up of excess oil. Importantly, this also entirely removes plastic from the construction of the product.Further development work targeted the outer surface of the container to give it extra visual impact. A high gloss finish was the aim, to bring a wow factor to the product but without using a plastic coating. The solution was the development of a new clay-coated finish that brings extra vibrancy and zing to the print.
The innovation inherent in the food bucket has been recognised with a number of industry accolades. It won the Sustainable Innovation in Packaging Award in the 2016 Foodservice Footprint Awards, received a 'highly commended' in the Foodservice Packaging Association's Innovation Award and was a finalist in the Innovation of the Year category of the UK Packaging Awards.
More info: