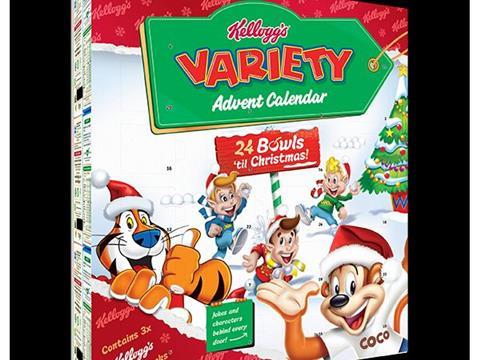 Leading folding carton specialist Graphic Packaging International (GPI) has developed a sleeve for Kellogg's first ever Christmas advent calendar, spreading festive spirit with a cereal favourite each day throughout December.
Designed to delight cereal lovers during the Christmas season, the sleeve contains three Kellogg's variety packs including Corn Flakes, Coco Pops, Rice Krispies and more. 24 creased doors snap, crackle and pop open to reveal Kellogg's characters, messages and jokes, and in the festive spirit of goodwill to all the pack demonstrates excellent sustainability credentials.
Craig Massey, European Key Account Manager at GPI, said: "It was a pleasure to collaborate with Kellogg's on such a fun project, which we believe to be the UK's first breakfast advent calendar. The brief was to create a pack that consumers would enjoy interacting with throughout the month of December and we are delighted that the finished product delivers such a fun countdown to Christmas."
"As Christmas celebrations are often associated with a 'throwaway' culture these days, we placed special emphasis on ensuring the pack used sustainable materials with no unnecessary extra packaging. The fully recyclable sleeve certainly achieves this."
Branded as '24 bowls til' Christmas', the advent calendar delivers a different surprise each day in an innovative adaptation of the traditional Yuletide staple. The back of the pack also features a selfie competition to join Kellogg's Christmas party.
The limited edition advent calendars are available in-store now, in an exclusive deal with Tesco retailing at £4.00 per unit.