Our latest Innovation Spotlight comes courtesy of Meyer Seals®, who introduces a new consumer-friendly shaker packaging solution.
"Today´s consumers desire products in packaging that offers convenience, reliable functionality, and clean handling," says Sanja Garaj Milos, Marketing Director Culinary BU at PODRAVKA. Responding to these consumer expectations, the PODRAVKA group has teamed up with Meyer Seals®, a leading manufacturer of closure seals, and launched a consumer-friendly opening solution for their seasoning brand VEGETA.
The latest innovation of Meyer Seals®, ALKOflex™ tab, is a revolutionary seal from its 'induction family', offering an intuitive easy to grab and peel-off pull tab, suitable for sealing both plastic & glass containers. ALKOflex™ tab is in many ways different from the conventional, difficult to open induction seals. It is designed to offer the highest consumer convenience whilst adding value and brand differentiation possibilities!
With a large, ergonomic, and tailor-made grip tab, ALKOflex™ tab is immediately intuitive and familiar to the consumer. It ensures a gentle, smooth peel in one single action, making the opening process a pleasant ritual with an emotionally satisfying feeling and providing a sense of safety for the consumer. With its distinguishing features, ALKOflex™ tab sets very high standards for brands as it leverages consumer engagement and gives users of all age groups the confidence that it works and releases them from one of life´s little frustrations: inconvenient packaging openability.
With various possibilities in terms of customizing design to match the brand, in conjunction with adjusting the size and the colour of the tab, brand awareness, and brand loyalty can be significantly strengthened for any brand with the ALKOflex™ tab. An aluminium-free pull-tab in the liner further ensures a consistent and reliable induction sealing performance.
Nishan Goenka, Global Sales & Marketing Director for Meyer Seals® Group, explains: "When it comes to rigid packaging, apart from safety and security, brands often direct all their product packaging efforts to ensure that they have the most attractive looking labels, jars, closures, etc. to attract consumers. However, one of the most important touchpoints, consumer experience at the time of product consumption, is not given the attention it deserves.
Several studies and research papers show frustrations from consumers at the time of package opening that is caused due to non-removal of the seal, product spillage, having to resort to tools, and injuries caused at the time of opening. With ALKOflex™ tab we want to ensure that the experience of consumers of all age groups remains consistently positive, right from purchase of the product at the store to the time of its consumption. We would like to congratulate team Podravka/Vegeta for taking a step in the right direction."
An extensive qualitative consumer research conducted amongst 40+ correspondents in the UK in the dairy and condiments segment showed a clear preference to ease of opening with the ALKOflex™ tab. A detailed copy of the qualitative consumer research can be sent upon request.
Furthermore, the research confirmed that consumers clearly prefer ALKOflex™ tab to other currently-used induction seal liners, rating it for best for branding and intuitiveness: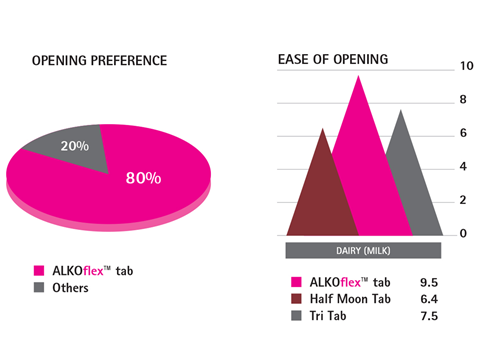 "Even kids of six could open this with ease" – Maria, 36
"Very easy, large tab helps elderly and anyone with weak fingers to see and pull it easily" – Mark, 48
"I just know what to do without being told" Eric, 19
These were some of the comments from research participants, which confirm the intuitive, ergonomic, and easy-peel function of the liner.
With the large, easy grip-able tab, ALKOflex™ tab meets the needs of all consumers, from the youngest to the oldest, from partially sighted to arthritic hands.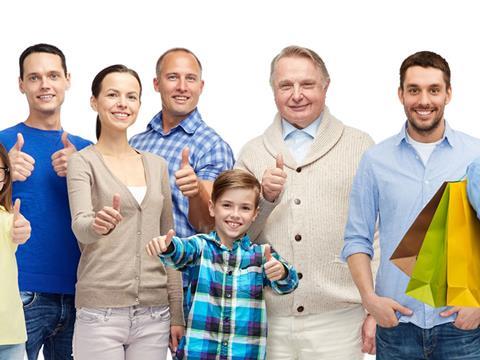 Key benefits of the ALKOflex™ tab liner at a glance:
• Instantly recognizable large pull-tab
• Intuitive, easy and ergonomic use
• All age groups, easy for kids and arthritic hands
• Brand differentiation through customized graphics
• Tool-free and safe opening
• Reliable and smooth peeling-off without spillage
• Hygienic and clean handling
• Aluminum-free tab allows for consistent induction sealing performance
ALKOflex™ tab seals hermetically both on glass and plastic containers in a wide field of industries, from food and beverage (including condiments, fatty oils, sauces, spices, spreads, dairy products, fruit juices, sport drinks, vitamin products) to pharmaceutical products, as well as cosmetics and lubricants.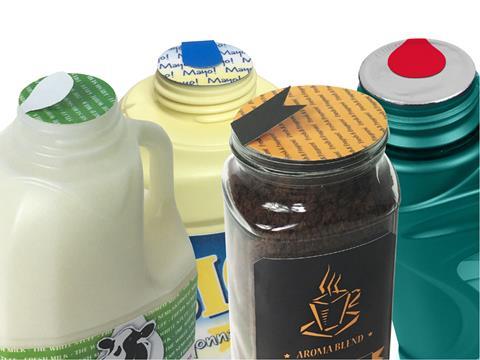 Click here to learn more about ALKOflex™ tab.
Click here to learn more about PODRAVKA.
For further information, please contact:
Vasileios Sakalis
International Key Account Manager Meyer Seals®
Phone: + 49 (0)51 81 – 8018-32
Email: sakalis@meyer-seals.com
Meyer Seals®:
LinkedIn: https://www.linkedin.com/company/meyer-seals
Website: www.meyer-seals.com
This content was sponsored by Meyer Seals®.