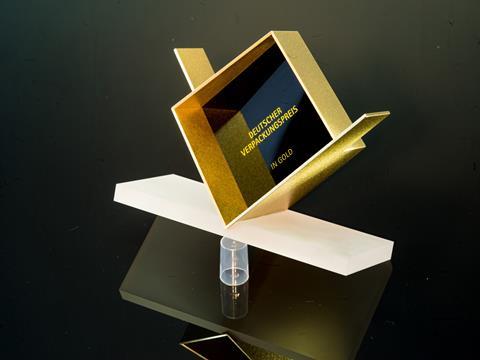 At this year's FACHPACK trade fair at the Exhibition Centre Nuremberg, the German Packaging Institute (dvi) unveiled the winners of its Gold Award for 15 of the most ground-breaking innovations from its pool of German Packaging Award 2021 winners.
All 52 of the German Packaging Award 2021 winners were introduced and honoured at the event, which took place on Tuesday 28th September. The winners – who were first revealed in July of this year – were also given a certificate and seal to mark excellence in innovation by the dvi.
The "exclusive" Gold Award is given to packaging achievements that represent the "best solutions" across nine different categories. Overall, 13 companies from Germany were given the award, along with one company from Latvia and one from Sweden.
You can read about the 15 Gold Award winners below:
The Digitization category
Dynamic Packaging Configuration X Big Data Digitalisiergung – HelloFresh SE's data management system that automates the relevant data for putting together transport boxes delivered to customers
The Sustainability category
Co2 Recycling in PET Flaschen – mirabellegroup's process for converting CO2 into ethanol
GAPLAST AirlessMotion(R) PCR 500 ml – a resource-saving hybrid packaging from Gaplast GmbH
NIR Marker für Kunststoff-Kartuschen by Tailorlux GmbH and Fischbach KG Engelskirchen
Verpackungslösung mit Federwirkung – Smurfit Kappa's packagaing solution with a damping effect for contents
The Economic Efficiency category
SPQ ("Sustainability Print Quality) by SÜDPACK Verpackungen GmbH & Co. KG, with Goldsteig as a project partner
The Design & Processing category
Verpackungsrelaunch Hansaplast, Elastoplast und CURITAS – a packaging relaunch with medically emotive design language by design for human nature GmbH
The New Material category
Melker of Sweden paddle packaging – Stora Enso Latvia's paddle packaging made of cardboard/corrugated board
Korrosionsschutzfolie mit neuartigem Intelligent Corrosion Blocker (ICB) – EXCOR Korrosionsschutz‐Technologien und ‐Produkte GmbH's user-friendly, intelligent corrosion protection
The Functionality & Convenience category
Salon Lotion Pump für Entwicklerlotion oxidativer Haarfarben – Kao Germany GmbH's new packaging system for oxidative hair colours for professional salons
Kebag – Haepsi GmbH's takeaway kebab packaging
The Presentation of Goods category
Cyberpunk 2077 - 360° POS-Kampagne – Schoepe Display GmbH's display with a walk-in feature
The Logistics & Material Flow category
WALTHER Rollcontainer mit patentiertem Schnellkopplungssystem – WALTHER Faltsysteme GmbH's reusable, recyclable plastic roll container
The Packaging Machinery category
PackOnTime 2box – Kern AG's highly flexible packaging system for shipping boxes
This year, the jury also decided to give a special Gold Award in the Young Talents category. This was given to REPOST, a reusable parcel system made from durable material for the online retail sector that can be returned through letterboxes. This innovation was submitted by Rebekka Jochem and Jacobo Cuesta Wolf of the Faculty of Design at Wismar University of Applied Sciences.
Kim Cheng, Managing Director of the dvi, says: "Packaging will continue to play a key role in helping us overcome today's challenges, both big and small.
"Our highly innovative industry is in demand – and it's delivering. The 15 winners of the Gold Awards and the 52 German Packaging Award winners are outstanding testimony to that.
"Their new solutions have benefits for people, the environment, and business. They make a difference by ensuring health and hygiene, sustainability and environmental protection, productivity and prosperity."
Winfried Batzke, co-managing director together with Cheng, adds that "during the two-day, non-virtual deliberations, [the jury] took a detailed look at every single solution before finally arriving at their verdict.
"The Gold Awards are the gold crest of a massive wave of innovations that is currently sweeping over the packaging business."
You can read more about the jury, judging process, and winners here.