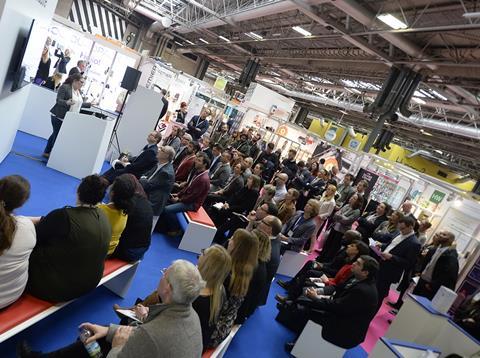 Tesco, Coca Cola, M&S, Co-op, Innocent, TerraCycle, and Thorntons are just some of the major names taking to the stage as part of Packaging Innovations, Label&Print and Empack 2018's extensive two-day seminar programme.
The UK's largest annual event for the whole packaging supply chain, which returns to Birmingham's NEC on 28 February & 1 March 2018, will host over 20 hours of CPD accredited content. The free-to-attend educational seminar programme will take place across five theatres and will also feature experts from ASDA, Nestle and Floral Street.
James Drake-Brockman, Divisional Director of Easyfairs' Packaging Portfolio, comments: "As the UK's largest packaging show, our education programme is a key part of the value we offer to our attendees. We are thrilled to have so many fantastic speakers on board, from major retailers to small independent brands. The programme promises a unique insight into the cutting-edge trends, current issues and latest opportunities within the industry, and guarantees inspiration for any industry professional in attendance. We are also due to announce some very special sessions soon so watch this space."
When snack giant Graze challenged CS Labels to produce a flexible pouch, it embarked on a project which yielded ground breaking results. Technical Director of CS Labels, Andrew Mansfield will discuss his work with Graze and take visitors through the flexible digital packaging process, outlining both the benefits and the pitfalls of the method.
Whether it's reducing waste through smarter packaging, finding more energy efficient solutions or sourcing more recyclable materials, sustainability is the hot industry topic at the moment and will form the basis of the Ecopack Theatre. Simon Reid, Sustainability Manager at Innocent Drinks, will take to the stage to address the plastic bottle dilemma as he explores Innocent's unique take on the circular economy, as well as what it is doing to get the circle turning.
Tesco will be joining The Recycling Panel, led by Prismm Environmental, to discuss the challenges, opportunities and innovations facing the packaging market as it moves to become better at recycling.
Ron Cregan, Founder of Endangered Species, will analyse the effects plain packaging regulations could have if they were extended to industries such as alcohol, confectionary and snacks. Cregan will examine the multibillion dollar hit that the regulations could have on some of the world's biggest brands, including Coca-Cola and Kraft.
Elsewhere, ASDA will form part of the FlexoTech Debate panel to discuss whether advances in technology have done enough to help flexo adapt to changing trends in the market today and in the future.
Finally, Kevin Vyse, Senior Packaging Technologist at M&S Food Group will join The Big Print Debate panel to discuss the future of the label sector and consider whether a label is defined by its size, its scope or the purpose it serves.
Drake-Brockman concludes: "In the current climate packaging is heavily under the spotlight, with our event at the end February perfectly placed to help the packaging industry address the challenges it faces. With more than 300 exhibitors and over 20 hours of CPD accredited educational content, the event is poised to be the biggest and busiest to date."
More info: