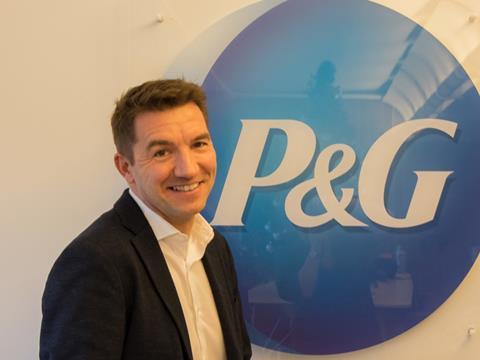 Last month, FMCG giant Procter & Gamble shared an update on its progress towards its "Ambition 2030" goals, in which it has pledged to reduce virgin plastic usage by 50% and reach 100% recyclability or reusability by 2030. We spoke with Gian de Belder, technical director for R&D packaging sustainability at P&G, to take a deep-dive into the key points made in the update.
---
A central part of this update is the announcement that P&G has joined the RecyClass initiative. What was the reasoning behind this move, and what does P&G hope that the results will be?
Recyclass is a voluntary cross value chain initiative that aims to help align on definitions, test protocols, design for recycling guidelines and many other aspects for plastic packaging.
This is needed to make plastic packaging circular, which aligns with Europe's ambition. It is key to work across the industry on these topics, and the positive aspect of Recyclass is that it is using a science-based approach.
The user can run quick recyclability checks with the Recyclass online tool, can submit new innovative packs to independent accredited labs to assess compatibility with existing recycling streams, and a selection of independent certification bodies can have a closer look to applications, providing official certificates describing the plastic packaging recyclability profile.
The promotion of digital watermarking technology HolyGrail is also important for your Ambition 2030 goals. What does the future hold for this initiative, and how is P&G working to scale it up?
HolyGrail 2.0 is designed to solve one of the largest obstacles plastic recycling faces – ineffective sorting and/or recycling at facilities. The first phase of the project proved that digital watermarks integrated in the packaging open up completely new possibilities currently not feasible with established sorting technologies, as we are now able to sort on an SKU (product) level rather than relying on NIR/colour fingerprints.
This includes being able to distinguish between food and non-food packaging (with the ability to further split streams in detergent grades, cosmetics grades, etc), proper sorting of full-body shrink sleeved bottles, identification of multi-material packaging and problematic decorations including carbon black, and safe introductions of new materials and/or pack formats that are truly designed to fit into a circular economy at scale. All the while, we're ensuring that none of these will hinder existing recycling streams.
HolyGrail 2.0 is now facilitated by the European Brands Association (AIM). This next phase will be planning to upscale from an R&D test line (Technical Readiness Level TRL 5-6) to an already identified semi-industrial line (TRL 7), after which the roll-out of this technology can take place.
The technology will be evaluated in real markets (National test market phases, bring TRL up to 8-9). This should be completed in the course of 2022. Next to the technical upscaling, business cases will be assessed in parallel, ensuring the viability of digital watermark technology on a broad scale. All these aspects should lead to the roll-out of this technology at a large scale.
P&G continues to drive an industry-wide push to get more players in the HolyGrail 2.0 coalition so we can drive change at scale. At the same time, we are preparing several of our brands to include the digital watermarks so we can support the upcoming pilots in the National Test market.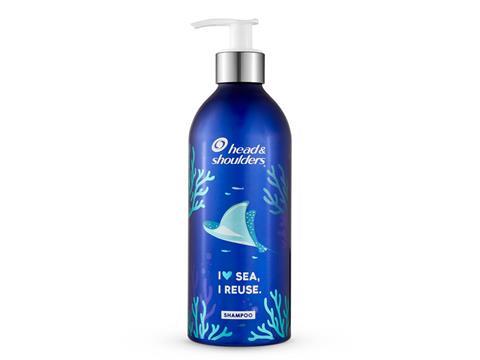 Reuse is another area that P&G has identified as being key to its Ambition 2030 objectives. More specifically, last year P&G Beauty announced the launch of its first refillable bottle system at scale. Could you share with us some of the results/learnings from this project, and drill down into the potential benefits of reuse models?
Our beauty announcements launched last year were one act amongst many other Responsible Beauty commitments where we will create value with innovation in sustainable packaging.
P&G Hair Care Brands Head & Shoulders, Pantene, Herbal Essences and Aussie are now able to make huge difference to how people combat bathroom waste. A new reusable 100% aluminium bottle and recyclable refill pouch en-masse is now available in many stores across Europe. This will enable 200 million European households to recycle, reduce and reuse. it will result in 300 million fewer plastic bottles being produced yearly.
When we design a package, we use the minimum amount of material whilst meeting all Fit-for-Use requirements and look for reuse/refill models. We take into account the full life cycle, designing it with a 'next life' in mind which means recovering packages to be used again.
One of the key motivations of this launch was to obtain consumer learnings at scale, will consumers change their habits, is the proposition intuitive enough and delightful enough (which we know is key) so we can make a real difference. These learnings will be collected and shared in the coming months.
How has the pandemic affected P&G's sustainability drive and, in your view, how has it affected packaging sustainability in general?
COVID-19 has brought into sharp focus the interdependency of human and planetary health. For packaging, sustainability will increase because all of us – from businesses to consumers – are now more aware than ever about our environmental impact and are taking action to reduce it. The recovery funds are especially focusing on realizing a circular economy after COVID.
Lockdown measures have also impacted sustainability at home for consumers. For example, more waste is generated at home (which is also driven by more on-line purchases including food boxes).
We need to work together with business, scientists, experts, governments but also the most concerned and vocal citizens, including young generations, to arrive at the solutions that will have a great impact, but can also be adopted and applied by the many.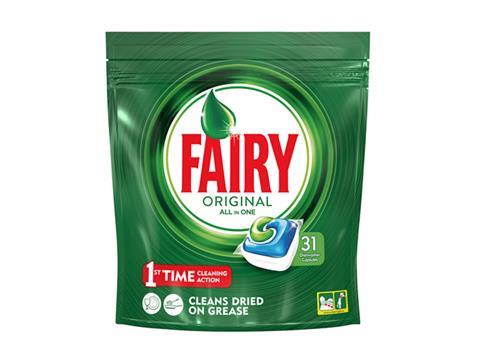 There is plenty more work to be done before P&G achieves its sustainability goals. Looking ahead then, what further steps will the company be taking in this field in the near future?
The framework for our Ambition 2030 goals, which is the term we use to capture our environmental sustainability goals for the next decade, spans four areas – brands, our supply chain, society and employees.
In terms of brands, P&G's 20 leadership products including Always, Ariel, Dawn, Fairy, Febreze, Head & Shoulders, Pantene, Pampers, and Tide will enable and inspire responsible consumption through packaging that is 100% recyclable or reusable, launching more sustainable innovations, and building trust through transparency and sharing our safety science.
In the supply chain, P&G manufacturing sites will reduce greenhouse gas emissions by 50% and will purchase enough renewable electricity to power 100% of our plants. The Company will also source at least 5 billion liters of water from circular sources.
In society, P&G will continue to create transformative partnerships that enable people, the planet and our business to thrive, including those that stem the flow of plastic into the world's ocean, protect and enhance forests, and protect water in priority basins around the world.
And, for our employees, P&G will engage, equip and reward employees for building sustainability thinking and practices into their everyday work. We will reward progress and integrate recognition into performance assessments.
Beyond our A2030 goals, we announced last year our commitment to be carbon neutral for the decade for our operations. In Europe in particular, we see a lot of drive across the board to enable change and move faster.