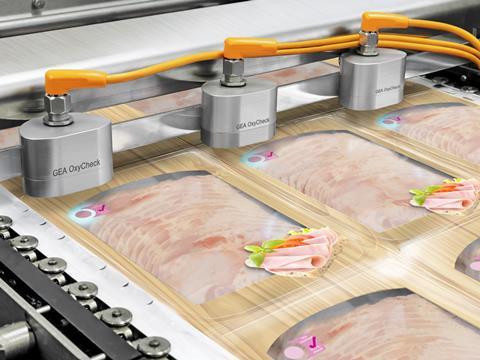 Sensor spot on the inside of the film provides information about oxygen content
The GEA technology uses a sensor spot made of a polystyrene-based fluorescent dye that is printed on the inside of the film. Similar to an indicator strip, the wavelength of the dye changes depending upon the oxygen content inside the package. Sensors on the GEA PowerPak thermoformer activate this sensor spot and then take a reading. GEA has developed a special method for calculating the oxygen concentration based on the light emitted and the temperature. The new measurement system has no effect on either the line speed or the throughput of the GEA PowerPak.
No waste of food or packaging materials
Up until now, spot checks have been carried out to measure the oxygen content in MAP – which means that less than 0.5 percent of the packs manufactured are typically tested. Spot checks involve the removal of packs from the line and their inspection through an invasive probe. When a pack does not meet specifications, the line is halted and all packs preceding it up to the last pass are destroyed. However, even perfectly fine packages are disposed of because they are damaged by the needles during the testing process. In contrast, the GEA OxyCheck process is completely non-invasive and neither the product nor the packaging materials go to waste. And 100 percent of the manufactured packs are inspected as well. In the end, only packages that meet all specifications enter the supply chain. Sassmannshausen added, "We also help food manufacturers avoid costly recalls of whole batches, which retailers can demand even if only one pack shows early spoilage."
Safe outcome, safe technology
GEA OxyCheck has been approved by the U.S. Food and Drug Administration (U.S. FDA) and meets all relevant EU regulations for Food Contact Materials (FCMs). The liquid is similar to the materials used in making the packaging films. The sensors work with the pulsed light of an LED, which is safe for both products and operators. The process has no effect on either the composition of the modified atmosphere or the package content. Initially designed for use on the horizontal thermoformers of the PowerPak line, GEA OxyCheck will also be available as an optional feature or retro-fit upgrade for other equipment with MAP capabilities. In the future, GEA is planning to offer the system for other applications such as the vertical thermoformer as well.
"SAVE FOOD" – SAFE FOOD through GEA OxyCheck
GEA has been a member of "SAVE FOOD" since 2013, the initiative that is fighting to eliminate food waste. To meet the challenge of securing the food supply for a growing global population, members are working to reduce food loss along the value chain. After all, even today, approximately one third of the food produced – 1.3 billion tons a year – still goes to waste for a variety of reasons.
One focus of the initiative is on packaging that is designed and applied to be both safe and conserve resources. And this is where the Düsseldorf-based technology group GEA, one of the TOP suppliers of the food processing sector, comes in: without "safe food" it is not possible to "SAVE FOOD". "We believe that we can only counteract the undesirable developments of the past years through maximum product safety," Sassmannshausen said to explain why GEA joined the initiative. "This is why, through our technological advances, we are making it possible for the industry to safely manufacture food products and avoid waste beginning in production. With GEA OxyCheck, we are doing our part to fight against food waste."