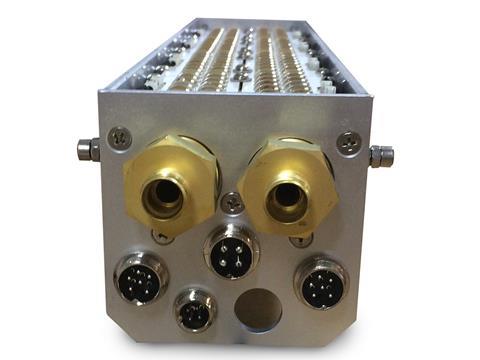 Fujifilm today announces that it will use its stand (9A34) at Labelexpo Europe 2017 (25th - 28th September, Brussels) to showcase Illumina, an LED UV retrofit curing system, to the European market. This innovative new system allows traditional UV and water-based flexo presses to be converted to LED UV curing, boosting productivity and environmental performance while reducing costs and waste.
Illumina comprises a brand new LED UV curing lamp system that incorporates patented and patent pending technology that is designed to operate with a completely new flexo ink system called Fujifilm 300 Series. Combined, Illumina and 300 Series inks bring the benefits of low energy LED UV curing to traditional flexo presses through a fast and simple conversion process. The compact design of the Illumina unit ensures it will fit easily onto most UV flexo presses of any width, and will also mount directly onto any water-based flexo press without the need to add an extra roller as required by other LED retrofit systems.
The new 300 Series ink range, featuring line and process colours, was developed to maximize print quality. Fujifilm 300 Series inks are compatible with all plates designed to work with UV based inks.
Reduced heat build-up and up to 90 per cent energy saving
Illumina's patented LED chip design produces less heat, and the heat that is produced is dissipated more effectively than it is with competitor LED technologies. The energy efficient design of Illumina is also proven to lower energy use which enables an extraordinary potential energy saving of up to 90 per cent compared with conventional UV curing lamps. With energy forming a huge part of label producers' costs, savings of this magnitude have the potential to substantially improve profitability.
Improved productivity
Illumina also makes it possible to print to a much wider range of heat sensitive and unsupported films, even without the use of chill rollers, boosting the range of work that printers can accommodate. The patented LED technology and innovative domed lens design helps to deliver up to 44 per cent more energy, curing print more quickly.
Improved working environment
Finally, Illumina reduces noise and the amount of stray UV light, while also significantly reducing the footprint of power and chiller units in comparison to conventional UV systems. It eliminates noisy exhaust fans and mercury bulb disposal concerns. Combined, these benefits lead to a much improved, quieter and safer work environment.
Says Steve Wakefield, Aftermarket Support Manager, Fujifilm Speciality Ink Systems: "Illumina is the most cutting edge, innovative LED UV curing system on the market. It offers label and narrow web printers the triple benefit of massively lower energy costs, improved productivity and a much healthier working environment. With five customers in the US already enjoying these benefits, Labelexpo Europe 2017 will give European label printers the opportunity to see for themselves how they could also benefit and take full advantage of the latest LED UV ink technology. To learn how your business could benefit, visit us at stand 9A34 during the exhibition."
More info: