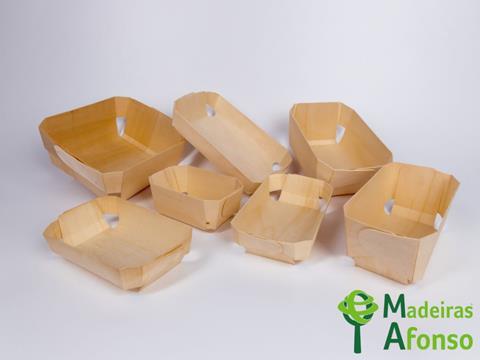 In our latest Innovation Spotlight, Madeiras Afonso introduces its new line of Wooden Food Trays, offering a recyclable and compostable alternative to plastic and aluminium that it will debut at Tecnipão/Packaging in FIL, Lisbon from the 27th to the 29th of March.
Madeiras Afonso is a Portuguese family-owned company that operates in the trade of wood and its derivatives. Forest exploitation/management, wood impregnation, woodchips, and biomass are the company's daily life. The mission is to add more and more value to one of the main resources of our planet - wood - based on the concept of circular economy and to the detriment of exhaustible resources and linear economies.
In order to do so, a new segment of the business was recently launched: Wooden Food Trays!
This new line of packaging products made from poplar wood is intended to be an innovative, sustainable, recyclable, and compostable solution to help accelerate the transition from plastic- and aluminium-based products, thus contributing to climate change mitigation and reducing litter in the oceans. Basically, working for a better world.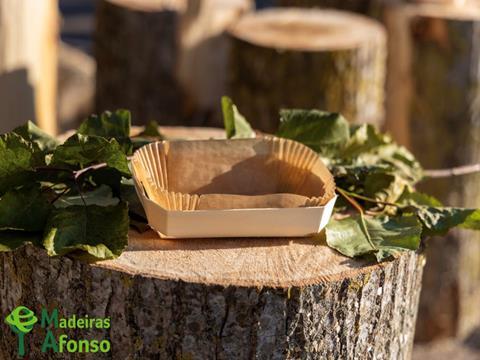 Washington, Madrid, Brasilia, Lisbon, Luanda and Tokyo are the six models of different measurements that make up the portfolio at the moment. These wooden trays are sold as secondary packaging, together with a kraft paper that works like the primary packaging. Both are suitable for food contact.
Withstanding from -40 to 220ºC, this natural product is extremely versatile and can not only go in the oven but also in the microwave.
They comply with all the standards required for the food sector. With these products, it's possible to prepare, cook, present and consume your bread, cake, lasagna, rice, and pasta directly, among others, without needing to use any other tray or dish and avoiding wasting any water! It can also be used for cookies, nuts, or fruit!
Composting or reusing the wooden tray is possible. It can be chipped and used as compost in the garden or, by adding some soil, you can plant an aromatic herb and place it next to your window, or even better, an autochthonous tree and make it grow wherever you want!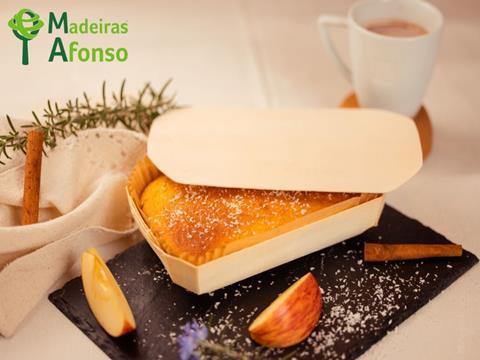 Madeiras Afonso will continue to develop products and different models, adapting and improving them in order to meet the needs of their customers. They are currently working on a lid for the packaging, as well as on the product customization.
Their plan is to take the trays as far as possible. To do this, they are looking for distributors and partners abroad, in order to have a presence in all continents. Nowadays the main clients are frozen food producers, and it's possible to find their packaging in the biggest Iberian retail chains. However, the baking, fruit, nuts, cookies, and takeaway sectors are market targets.
Due to wood's low thermal conductivity, it is an incredible experience to take this tray from the oven without burning your hands (it's possible with some care), and taste your favourite dish in a natural and sustainable product knowing it will end up being composted or reused.
Madeiras Afonso wooden trays are PEFC and Vegan Friendly certified, on one hand, to reassure the consumers that the products derive from sustainable forest management and, on other hand, to prove that they do not have any animal origins.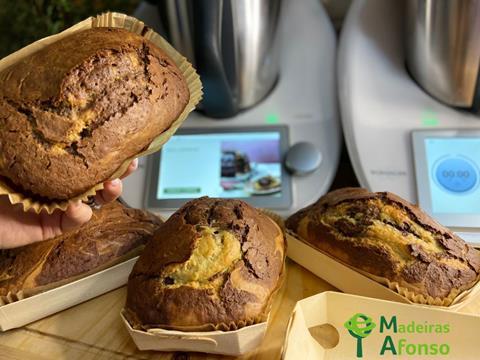 International fairs in the packaging sector are an opportunity for the company to make its product known, so Madeiras Afonso is taking the necessary steps to be present at the most important ones, promising interaction with the target audience, starring in a kitchen show with some chefs, guests or the general public.
That will happen in the Tecnipão/Packaging in FIL, Lisbon from the 27th to the 29th of March, which will mark the debut of Madeiras Afonso playing at home in this type of event.
In order to get in contact with Madeiras Afonso, you can use the contacts below:
Instagram: @madeirasafonso
Email: orders@madeirasafonso.pt
Phone: 00351911769761
This content was sponsored by Madeiras Afonso.