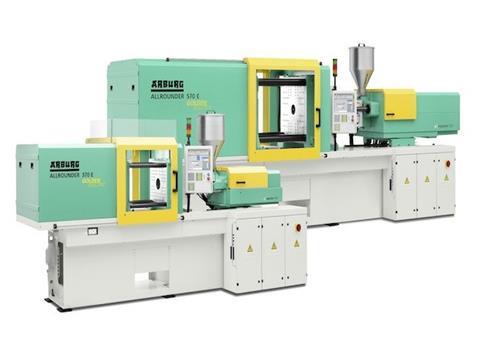 At the Plastpol 2017, to be held in Kielce (Poland) from 23 to 26 May 2017, Arburg will demonstrate the cost-efficient, automated production of quality parts on Stand E25 in Hall E. Two Allrounders from the fully electric Golden Electric machine series will produce telephone cradles and sleeves for droplet irrigation systems. The handling tasks will be performed by robotic systems from Arburg – an Integralpicker and a Multilift Select. The performance capacity of the Arburg automation solutions will also be demonstrated in a "Robots in Action" presentation area.
"This year, we are celebrating our silver anniversary to mark '25 years of Arburg in Poland'. We are proud of the fact that we have been here for our customers with highly qualified personnel for two and a half decades," says Dr Slawomir Sniady, Managing Director of Arburg Polska Sp. z o o. "The main focus at the Plastpol 2017 will be on two Allrounders from the Golden Electric series, which are designed for the cost-effective production of complex plastic parts. The two exhibits, as well as a playful 'Robots in Action' presentation will also demonstrate the performance capacity of our automation solutions."
High-performance, precise, energy efficient
Thanks to consistent standardisation with, for example, a fixed combination of distance between tie-bars, clamping force and injection unit size, the "Golden Electric" machine series offers an outstanding price/performance ratio. The Allrounder Golden Electric is available in four machine sizes with clamping forces from 600 to 2,000 kN. The dual five-point toggle system ensures high-performance and fast cycles. The play-free spindle drives operate with great precision. The position-regulated screw ensures excellent moulded part quality.The new electric machine series also features liquid-cooled motors, as well as servo inverters and offers benefits in terms of energy efficiency, short dry cycle times and high reproducibility. Compared to standard hydraulic machines, the high efficiency of the servo motors, continuous power adaptation and energy recovery during braking achieve energy savings of up to 55 percent.
Ideally suited for high-quality technical parts
At the Plastpol, Arburg will demonstrate why the Golden Electric machine series is mainly used in the cost-effective, reproducible manufacture of high-quality technical parts, based on the examples of insert sleeves and telephone cradles. An Allrounder 520 E Golden Electric with a clamping force of 1,500 kN and size 400 injection unit will produce 1.3 gram PP insert sleeves for use in droplet irrigation on a 12-cavity hot runner mould in a cycle time of around twelve seconds. An Integralpicker V is used to separate the sprue. The second exhibit, an Allrounder 570 E Golden Electric with a clamping force of 2,000 kN and a size 800 injection unit, uses a dynamically tempered, single-cavity mould to produce telephone cradles from PC/ABS. The moulded part weighs 22 grams and the cycle time is around 45 seconds. A Multilift Select linear robotic system removes the moulded parts and sets them down onto a conveyor belt.
Robots in Action
In the "Robots in Action" presentation area, Arburg will also demonstrate its standardised control system philosophy and wide range of automation products. All robotic systems are programmed via the Selogica user interface. At the Plastpol, an Integralpicker V, a linear Multilift Select and a six-axis robot will guide model agricultural vehicles around an obstacle course. The Integralpicker V is particularly well suited for high-speed pick&place movements, while the Multilift V linear robotic system ensures that long distances are covered in a dynamic manner. The six-axis robotic system is ideally suited to 3D movements. The three automation units communicate with one another via peripheral-equipment interfaces.