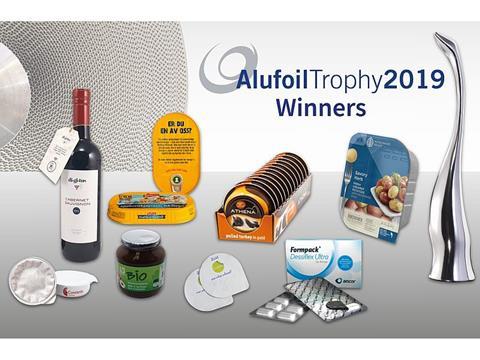 The Alufoil Trophy 2019, once again attracted a strong field of entries. In total nine awards were made across the five categories, including a discretionary award for overall excellence for one outstanding product.
The Alufoil Trophy is an annual event, organised each year by the European Aluminium Foil Association (EAFA).
The judges, led this year by Laura Fernandez, senior packaging technologist at Marks & Spencer, noted strong social elements running through entries this time, particularly in terms of convenience for the consumer and social or environmental aspects of the product development. One example of these themes is an alufoil lid with the capability to emboss braille – offering information to shoppers with poor vision. Another enables sensitive pharmaceuticals to be used safely in very humid and tropical areas of the world.
"We were very taken with many of the entries working effectively on more than one level. So while it was clever technically, or offered energy or material savings, there were also other aspects which made it special, such as easier opening or with the potential to reduce food waste. In particular we should mention the discretionary award winner, an intelligent and 'connected' aluminium wine closure which simply takes this device and its functionality to a new level," Ms Fernandez remarked."Another winner was not from the packaging sector, but was an outstanding entry in the category of Resource efficiency. It clearly demonstrated better efficiencies and reduced consumption in energy recovery rotors, made possible by very clever use of alufoil," she continued.
Speaking about the awards Guido Aufdemkamp, executive director of EAFA said, "Again we see aluminium foil manufacturers and converters stepping up to, and meeting, the challenges of an increasingly socially aware and sustainable environment. At the same time they are addressing the real needs of consumers for smarter and more convenient packaging. The Alufoil Trophy is a very effective way to highlight how the aluminium foil sector is leading such developments," he explained.