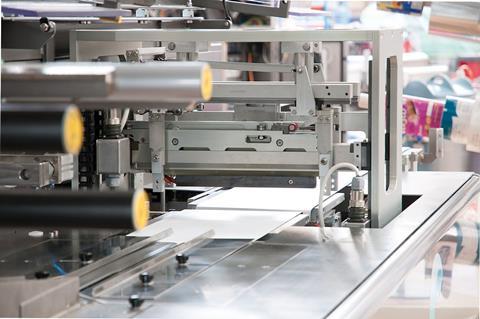 At the interpack Exhibition 2017 (HALL 14/STAND A14), Cavanna presents new systems for primary packing, horizontal flowpackers and robotized units to form, fill and close cartons.
The new Cavanna promise is "All Around Your Flowpack": it provides integrated, standard and customized solutions, from the process to the end of line. Since 21st March this is the new brand of the group specialized in complete wrapping lines for food and non-food manufactured in the two Italian plants and the seats in USA and Brazil.
Created by Mario Cavanna intuition in 1960, the group closed 2016 with a 66 million Euro turnover (+10% to 2015) with an export quota of 86%; a 50.000 sq.mt. of manufacturing areas (+21% to 2015) only in headquarters. Cavanna success relies on two elements: it is a family company supported by external board members and 310 highly specialized workers (+5% to 2015) constantly trained. The group has invested more than 12 million euro in Research&Development in the past five years.
The most important innovations can be summarized as follow:
1) PI.CO. is the new loader for delicate and fragile products that are handled individually.
PI.CO. loader doesn't overlap products nor create friction that could damage them. PI.CO. ensures the portioning in slugs and piles, all in one solution.
This completely new loader is mounted on the Cavanna ZeroX wrapper: both systems utilize sanitary design. PI.CO. and ZeroX are a space-saving system. They are user friendly and provide easy cleaning and fast changeovers. In particular, the ZeroX reel-holder is adjustable in two different heights to better facilitate the replacement of the film reel.
2) New SBF volumetric loader integrated into a ZERO5S NKZ flowpacker.
The main feature of this loader is a different design that makes cleaning, changeovers and maintenance easier. For some types of products, it is possible to reach a speed of 30 cycles/min.
Once the slugs are formed, a rotating system, which works up to 320 ppm, transfers them on the flowpacker infeed. Special flight fingers and lateral chains secure the slug in its vertical position. Finally, the ZERO5S NKZ speed and precision are incomparable with other models actually present in the global market. Loader, rotating transferring system and flowpacker are together the most efficient and fastest solution for the products on edge.
3) Integrated line to wrap different types of cookies in a singlepack and multipacks.
This line has been designed to wrap different types of cookies in a singlepack and multipacks. It includes accumulation belts, "U-shape" buffer, row distribution system, accumulation and stream lines, superimposing systems, two flowpackers model ZERO5S (at the exhibition there will be only one), two collating systems, a G41 robotized unit to form, fill and close cartons.
This is a complex solution with a high degree of integration between product distribution, primary and secondary wrapping. New design of the flowpacker: compared to the old ZERO5 model, the new ZERO5S has a more accessible and compact reel holder for easier sanitization. The line can wrap both single products and piles; the secondary packaging forms, fills and closes different size cartons. Cavanna reconfirms its ability to provide complex systems around the primary pack and multipack.
4) High speed and high-precision line for random arrival products.
High-speed and high-precision flowpackers need precise and reliable feeding systems with zero defects. A lot of times, products arrive random on a conveyor belt from processing lines.
The integrated line proposed for these situations includes a feeding system and flowpacker all in a small footprint. A vision system detects shapes and positions of the products: two G44 robots isles receive the digital signal from the vision system, turn the products and put them on the Zero4 wrapper infeed. A wrapper conceived for frequent and effective sanitization.
It is not a system for low productivities because it is possible to add other wrapping lines and increase the productivity. At the exhibition the robotized units can handle up to 417 products per minute, but in a real situation it can reach 1250 products per minute.
5) New solutions to wrap pharma devices and BFS cards.
Not only bakery and confectionery: the pharma industry likes the accuracy and reliability of the Cavanna complex wrapping lines and appreciate its valuable solutions to wrap devices and BFS cards.
Unlike a standard flowpacker, the Zero5 Box Motion focuses the heat only in the sealing areas, leaving the rest of the pack at ambient temperature. With the cooperation of its customers, decades of experience on wrapping materials and the support of the "TestClab" (the Cavanna test lab), Cavanna has been able to upgrade its wrapping systems to the ultrasonic technology (longitudinal and transversal ultrasonic sealing): the sealing unit that follows the product ensure precision, speed and heat only in the sealing areas.
Finally, Marchesini Group, specialized in the pharma sector, has supplied a loader suitable to reach a speed of 100 pieces/min.
6) Digital Service
In the center of the interpack stand, Cavanna put the target that shares with its customers: the performance of its systems. To do it, Cavanna has focused on the Service Division with the aim to add value to the wrapping lines and overcome critical points.
• Remote Assistance: Smart Glasses that communicate with a dedicated program to offer assistance and solve problems; they are included in the maintenance program and are part of a package that supplies other services and advantages.
• Preventive Maintenance: In the Service area, you will see a new application software that will tell you when a mechanical component must be replaced. It is possible to have a precise view of the wearable components on some line exhibited at the stand.
• 3D Interactive Catalogues and QR Codes: New 3D Spare Parts Catalogues replacing the standard 2D used in last years. New QR Codes cover some key points of the machine such sealing wheels and crimpers: clicking on a tablet on can see the exploded technical drawing. It is possible to spot the worn component to replace. All above with the aim to facilitate maintenance and spare parts identification with our worldwide clients.
• Inert Gas Atmosphere: With the purpose of extending shelf line the TestClab carried out a number of packing test in a standard rotary machine injecting N2 in the packs and analyzing the residual O2 afterwards; this allowed the development of specific gas flushing devices.
More info: www.cavanna.com