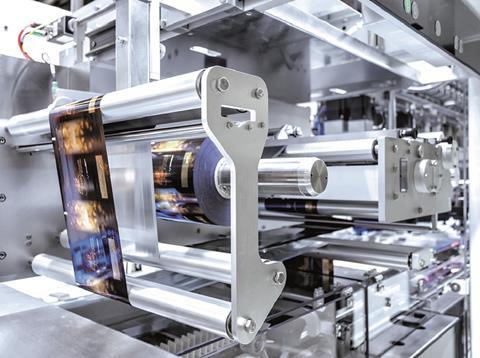 At the ProSweets fair in Cologne between 28 and 31 January 2018, Schubert will once again be showcasing its expertise in packaging confectionery and snacks in a wide selection of variants and packaging formats. At the show, the Flowmodul flow-wrapping component, which is seamlessly integrated into a TLM system, will be presented. The innovation has enjoyed great success since its market launch, especially in the confectionery sector. In addition to its top-loading packaging machine system and packaging into flowpacks, the company offers this sector a close to unlimited range of possible packaging variants. Furthermore, Schubert will be focusing on "industrial digitalisation" with topics such as predictive maintenance and the company's own GRIPS.world service platform.
At the ProSweets show, Schubert will use its Flowmodul to demonstrate a flow-wrap packaging component which is seamlessly integrated into a TLM packaging system. In combination with proven robotics and image processing technology, the Flowmodul enables the highly flexible packaging of snacks and confectionery of all types of flowpacks. The end-packaging process into cartons can also be seamlessly connected to the primary packaging process, in a single TLM packaging line.
With the Flowmodul, small batch sizes, short product life cycles and extensive product variety can be handled more efficiently than ever before. Schubert's flow-wrap packaging technology has since proven itself in the packaging of a wide range of products such as chocolate bars, biscuits, cakes and chocolate figures.
Unified system control, ease of use, highly flexible robot loading, powerful image processing and the fact that the customer receives a solution from a single vendor are among the unique advantages this automation solution delivers. Overall, when it comes to packaging a wide range of products, the technology achieves unprecedented performance levels in terms of space requirements, changeover times and product variety. In Cologne, Schubert will be presenting a picker line with five F4 robots that place sandwich biscuits into the Flowmodul's product infeed system and which then packs them in flowpacks.
Schubert 4.0Another focus of the exhibition will be digitalisation. In this context, the market leader in digital packaging machines will be presenting its web-based GRIPS.world platform, which will ultimately combine all important functions for monitoring and documenting machine data via a single user interface. By networking the TLM machines via this digital solution, Schubert will be able to continuously monitor machine performance and any deviations from target status – thereby further expanding its preventive service portfolio. The objective is to entirely avoid unplanned machine downtimes.
Text length: approx. 2.957 characters (with blank spaces) / approx. 431 words
Gerhard Schubert GmbHWith unwavering resolve and a firm eye on the road ahead, Schubert Verpackungsmaschinen focuses on the current and future requirements of its customers. The company is boldly charting its entirely independent course in terms of technology with its commitment to modular and intelligent TLM packaging lines. Its objective is to provide customers with future-proof solutions that are easy to use, are flexible in terms of format, perform extraordinarily well and exhibit excellent functional stability. At regular intervals the company unveils major leaps forward in innovation that offer customer benefits in new dimensions, thereby conquering new market segments with new technologies.
This family-owned group currently run by the family's second generation was established some 50 years ago and employs 1,250 people. Thanks to an atmosphere of mutual trust and a high degree of individual responsibility, the company has succeeded in developing its very own culture of innovation. The Schubert Group comprises German and international subsidiaries from the fields of IT, engineering, precision parts and packaging service.
More info: