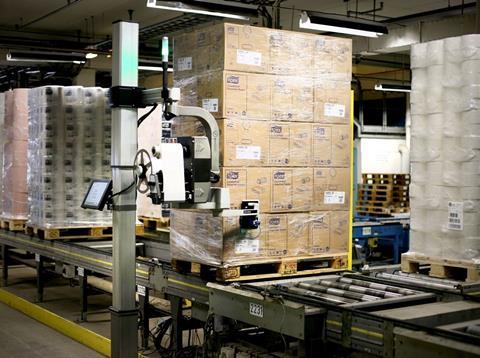 Industrial Labelling Systems Ltd (ILS) has introduced FlexWipe, a new, versatile automated pallet labelling solution for the UK food industry which can boost operational efficiency by performing equally well at minus 20 degrees Celsius as at normal room temperature.
Innovative thinking coupled with clever engineering by manufacturer Evolabel has turned standard print and apply equipment into multi-side labelling, extreme-temperature beating technology – a must for the frozen and chilled sector as FlexWipe can take employees out of the cold by removing operators from manually labelling pallets in uncomfortable conditions.
With the food processing industry evolving quickly and digital manufacturing playing a greater role day by day, companies are now able to source a state-of-the-art pallet labeller that is simple and straightforward to install and functions well at low temperatures – offering a cost-effective alternative to building specialist temperature-controlled labelling areas within warehouses.
FlexWipe's twin-motor technology ensures totally accurate positioning of labels and a unique identity – key to multiple logistics functions such as shipments, warehousing, expiry dates and storage location, which enables companies to comply with the strict GS1 SSCC barcodes regulation.
This latest automatic pallet labeller developed by Evolabel, exclusively available in the UK and Ireland from ILS, is user-friendly, extremely compact, fast and safe – an operator cannot get stuck between applicator arm and pallet.
FlexWipe also eliminates the need for expensive guarding and has the ability to provide single pallet labelling on up to three sides or dual pallet labelling without requiring the pallet to stop, thanks to its motorised and controlled movements and lightweight arms. It can even handle situations where pallets are not sent down the conveyor with uniform spacing.
ILS's Managing Director, Denis Brett, said: "The FlexWipe is revolutionary equipment years ahead of its time. Many pallet labelling machines struggle to cope in extremely cold conditions but not the FlexWipe. This is a technical breakthrough that can help food companies operate at maximum efficiency in tough industrial environments."
Firms that have struggled with hand labelling pallets in freezing temperatures down to minus 20 degrees Celsius are being urged to think again about automation. FlexWipe operates comfortably in the harshest conditions and can help food companies achieve maximum efficiency with minimum staff. ILS believes that FlexWipe is the future for low and sub-zero temperature pallet labelling.
As well as supplying a large range of all-round labelling technology to blue-chip end users in multiple sectors across the UK and Ireland, ILS also provides a full after sales support service, giving its customers peace of mind that production lines can be maintained effectively and businesses run smoothly and efficiently.