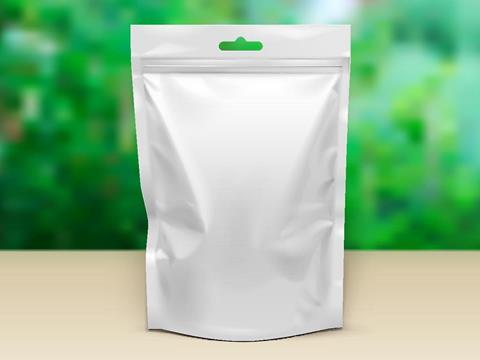 Guido Aufdemkamp, executive director of the Flexible Packaging Europe association delves into the European flexible packaging sector with overarching expert insight, alongside wider context from the US branch, with Alison Keane, president and CEO of the Flexible Packaging Association. Libby Munford reports.
Flexible Packaging Europe's (FPE) core activity is representing the European flexible packaging industry at a European level and on the international stage. FPE deals with a wide range of issues relevant to the flexible packaging industry, most notably food contact, sustainability and environmental issues. The Flexible Packaging Association (FPA) is the US association of the manufacturers of flexible packaging; and material or equipment suppliers to the industry.
What is Flexible Packaging?
Flexible packaging is produced from paper, plastic, film, aluminium foil, or any combination of those materials, and includes bags, pouches, labels, liners, sachets, lids, wraps, rollstock, and other flexible products.
Guido Aufdemkamp explains further, "Flexible packaging means packaging structures which are not rigid and bend easily. They are produced from a wide variety of substrate materials in the form of film or foil. This includes polymers films, paper and aluminium foil used either separately (single-layer structure) or in combination by adhesive- or extrusion-lamination (multilayer structure)."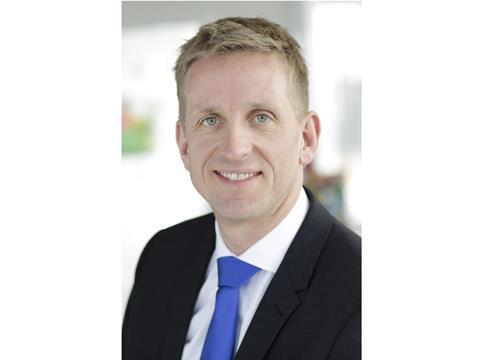 Guido Aufdemkamp, executive director of the Flexible Packaging Europe association
He shares the latest market figures. Total annual production from Europe last year exceeded €15.6bn, of which 78 per cent was accounted for from Western Europe, with 22 per cent coming from Eastern Europe. The region remains the most significant exporter with approximately 10 per cent of its production consumed outside Europe. Forecasts expect growth to continue, with sales achieving €16bn in Europe, while global consumption is predicted to reach nearly US$113bn (€100 billion) by 2023.
Indeed, according to Alison Keane flexible packaging continues to be the fastest growing segment of the packaging industry worldwide.
She says, "In the US, it is second only to corrugated cardboard. Our biggest segment continues to be food, which accounts for half of our packaging end-use market. Every category of the food segment expect tobacco is projected for growth. Trends have to do with sustainability – moving to recyclable and compostable packaging and bio-based materials. Digital printing is also a trend."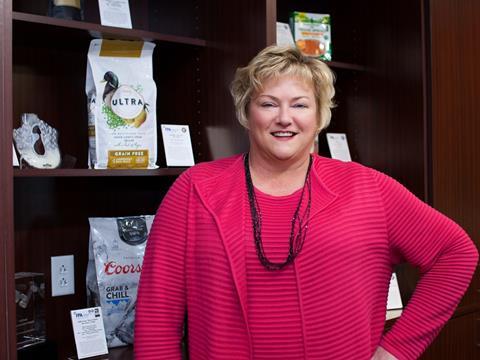 Alison Keane, president and CEO of the Flexible Packaging Association
Back in Europe, Guido Aufdemkamp points to pet food, ready meals and convenience products, as well as pharmaceuticals and health products benefiting from healthy growth.
"Stand-up pouches will continue to grow at an upper single digit growth rate, especially within baby food, healthy snacks, dog and cat treats and all kind of snacks. Portionability will become more important among the confectionery and snack categories," Guido Aufdemkamp shares. "This means smaller and/or multiple packs, but also reclosable and resealable packaging with the latter also important for the dairy categories."
Challenging public perception
Flexible packaging faces challenges to prove compliance with the continuously evolving requirements of the relevant regulation on food safety (food contact regulation). Alongside this, an understandably pressing challenge in today's climate of focus is to ensure flexible packaging supports a circular economy.
Guido Aufdemkamp goes so far as to say that it is just as vital that flexible packaging is perceived as such by the stakeholders. He argues, "Flexible packaging is very resource efficient as it uses a very small amount of material to achieve the requested functionalities, and its overall environmental impact is limited, generally lower than alternative packaging solutions.
"However, this is rarely recognised because the very small amount of material contained in the pack is generally less easy to recycle and, today, recyclability is the key driver of the public perception for packaging sustainability."
The strong anti-plastic rhetoric of today and an overriding ideology that recycling equals sustainability, is a simplistic approach to a worldwide problem that may have a detrimental effect on flexibles. Alison Keane sums up however that flexible packaging has holistic sustainability attributes, pointing towards the bigger picture.
Circular economy
The FPE takes sustainability seriously, Guido Aufdemkamp underlines.
He explains, "To further enhance the performances of flexible packaging in the circular economy, with the improvement of its recyclability, FPE initiated the CEFLEX project and its members have been actively supporting since its creation, together with other stakeholders of the entire flexible packaging value chain."
The objective is to increase collection, sorting and recycling of flexible packaging across Europe and to develop end-markets for recycled materials. This will be achieved by combining optimised packaging design and improved infrastructures for post-consumer collection and treatment.
In parallel, FPE continues to explain and educate on the resource efficiency benefits of flexible packaging, considering the holistic picture. "For that, we have developed a comprehensive online information package with facts and figures targeting the people working in the fields of flexible packaging and products packed in flexible packaging but also the general public," shares Guido Aufdemkamp.
Alison Keane adds that many of their members are part of the Ellen McArthur Foundation (EMF) and the Alliance to End Plastic Waste, working on infrastructure and solutions to plastic pollution, mainly from Asian countries.
She states, "According to the Ocean Conservancy, 60 per cent of the global marine debris originates from five countries in Asia. EMF reports that 82 percent of plastic global marine debris comes from Asia, whereby comparison only 2 percent comes from the US and Europe combined."
End of life is a vital element the association supports. They are heavily involved in research and development with members on end-of-life management, including mechanical recycling, chemical recycling, use of post-consumer content and recyclable/compostable/biobased alternatives.
Continuous innovation
The flexible packaging industry continues to innovate with new structures and new features, either to provide improved functionalities (e.g. longer shelf life or better convenience) or to serve the same purpose with reduced resources.
The key trends of the market today, says Guido Aufdempkamp, "include for example flexible packaging with re-closable and re-sealable features, providing the end consumers with new services and helping them to reduce the risks of food waste."
The winners of the FPA Flexible Packaging Achievement awards 2019 point to some standout innovation in the field this year. Check out the accompanying case studies highlighted alongside this article to learn how the industry is innovating.
---
Case study one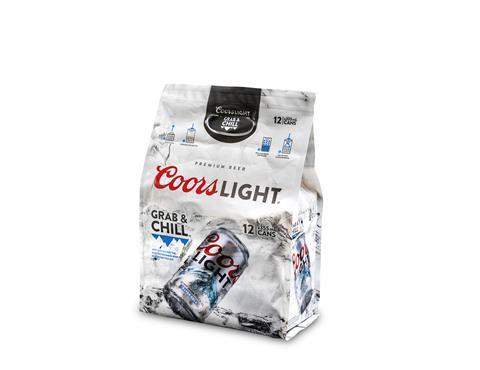 The FPA Flexible Packaging Achievement awards 2019 went to Molson Coors' 12 Pack Cooler Bag which creates a fresh take on the ubiquitous beer carton. The new flexible bag delivers portable convenience with a pouch that expands into a larger, reusable bag that provides additional convenience features. This innovative package features easy-carry handles and can go directly into the refrigerator or cooler. The film's sturdy, high performance structure allows consumers to reuse the bag. Reusability provides brand benefits to communicate benefits and quality to brand-loyal consumers over and over again.
---
Case study two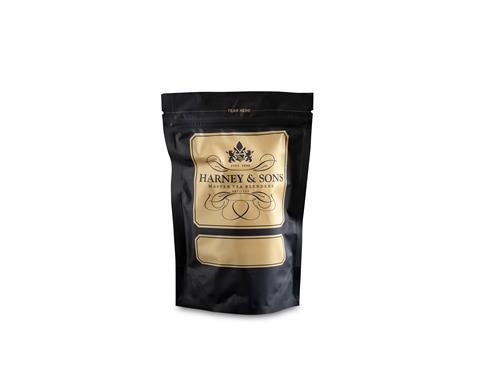 Harney & Sons desired a flexible pouch with luxurious graphics that would protect the aroma and flavour of their fine teas while supporting their environmental values. TC Transcontinental Packaging, in collaboration with Charter NEX Films, Inc. and The Dow Chemical Company, achieved all of Harney & Sons' key criteria of excellent shelf appeal, shelf life, and recyclability. This pouch is the first commercial example of a package which contains EVOH, for oxygen barrier, and moisture barrier properties in a format which is 100 percent recyclable for in-store drop-off.
---
Case study three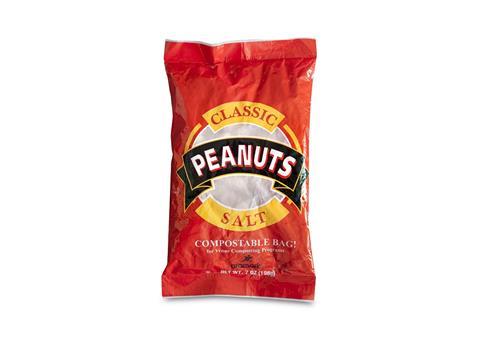 A flexible peanut bag made of certified compostable materials was developed for arenas and stadiums to help sports teams, venues, and leagues achieve the next level of landfill waste diversion by eliminating a pesky food scrap contaminant. The chief benefit of the new bag is that it reduces the amount of labour previously devoted to the manual sorting of materials collected during clean-up after games. The economic benefit is the lowering of overall waste management costs for the venue. The environmental benefits of this package centres around the use of renewable resources and its easy inclusion into the venue managed composting programme.
---
Why flexible?
It must be emphasised that the main purpose of packaging is to contain and protect the product, enabling the proper and safe delivery to the final user, whilst also to reduce the risks of food waste and the associated environmental and economic burdens.
Flexible packaging perfectly fulfils this, enthuses Guido Aufdemkamp – and, he argues, often in more resource efficient ways than alternative packaging types solutions, even with low recycling rates, underlining: "Today's efforts to optimise its end of life, with proper collection and improved sorting and recycling, will only further increase its sustainability and relevance."
Flexible packaging also has a plethora of holistic sustainability benefits, such as light weighting/source reduction; transportation efficiency; high product to package ratios; and its reduction in water usage, greenhouse gas emissions, and fossil fuel consumption.
Alison Keane concludes, "We continue to forecast good growth over the next five years, despite the 'anti-plastic' sentiment, given the overall sustainability of this packaging type and its ability to fight food insecurity and food waste."