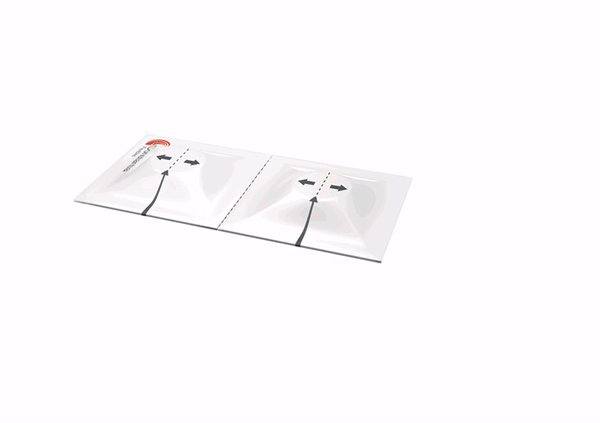 Constantia Flexibles has designed the Flexible Blister at its Product Excellence Center, combining the portability of a strip pack, the ease of use of a blister, and the protection of its PET-ALU-PE-based laminates.
Innovation Driven by Market Needs
Engineers at Constantia Flexibles's Spanish-based Product Excellence Center Laminates researched ways to make unit-dose packaging even more user-friendly and participants at a "Voice of the Consumer" workshop shared their must-have features for a portable pack. In the end, the Flexible Blister emerged, a pack with the push-through ease but none of the sharp edges of a traditional blister, a portable, twistable, and bendable strip that doesn't sacrifice its superior barrier protection, and ample space on the primary packaging to display promotional or patient information.
Evolution of an Idea
One of the challenges of working with PET in a laminate is the opening behavior. The PEC Laminates at Spanish-based Constantia Tobepal has been the driving force in overcoming this challenge, introducing the Tobepal Opening Feature, or TOF, for stick packs with PET-based laminates in 2012. They perfected the mechanical process that adds micro-perforations in defined areas of the PET layer of the laminate while keeping the aluminum barrier layer completely intact. The inventive TOF solution received the 2012 Alufoil Trophy for Consumer Convenience.
Push-through Appeal
Constantia Flexibles's engineers at the PEC Laminates aimed to make a strip pack with a PET-based laminate and an easy-to-use push-through mechanism. A multi-disciplinary team adapted the TOF technology for the new format and made it work for a variety of applications. "It is fully customisable in terms of technical and regulatory requirements to meet the customer's specific needs," explains Dr. Roberto Martín, Head of Innovation Laminates at the PEC Laminates.
The Flexible Blister was officially launched at the CPhI event in Madrid in October 2018, where it was short-listed for the "Excellence in Pharma: Packaging" award. Constantia Flexibles is also in the running for a 2019 Alufoil Trophy in the categories "Marketing + Design" and "Consumer Convenience."