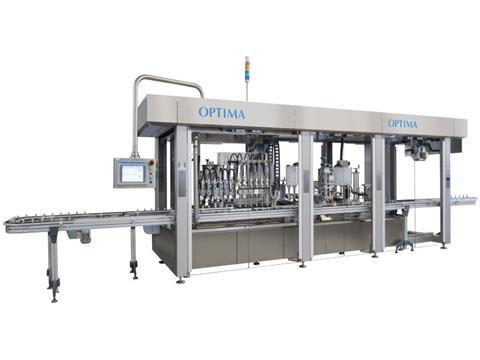 At FachPack, Optima Consumer will be showing the MODULINE packaging machine. Maximum precision is the core competence of the OPTIMA SD2best auger doser, which will also be live on stage at FachPack.
In addition, Optima Consumer will be providing information on the entire range of products for the food, chemical and cosmetic industries, which includes stand-alone machines, turnkey lines and the Total Care service.
The Moduline machine concept stands for its flexibility: fast format changes, large format ranges, processes that can be expanded and modified via plug & play, as well as many special functions are the basis for success. The version shown at FachPack fills extremely fine cosmetic powder into jars with high precision. Different make-up colours are portioned into four chambers each. The filling is off-centre and into different jar formats, therefore, the four dosing stations change their position depending on the format. Filling weights are between 2 and 25 grams and are controlled by a gross weighing device. Vibration ensures that the cosmetic powders have an even filling level and are compactly filled in the container. Finally, base plates are pressed onto the "upside down" containers at an assembly station, which close the containers at the same time.
The second exhibit is the OPTIMA SD2best auger doser with integrated shut-off scales. Its distinguishing features are maximum filling accuracy and a particularly wide format range from 5 grams to 30 kilograms. The flexible machine concept can be adapted to individual product requirements. This includes various product feeding and shut-off systems, ensuring perfect filling accuracy and a clean environment. In the field of combined weighing technology, various types of cells are available, including calibratable ones.
Optima Consumer and its partners have rethought and implemented strong packaging solutions with InlineCans and SoftCans and the "matching" packaging technology. Visitors at Optima Consumer's booth will discover the benefits for users in various topic areas. In addition, portion packs, for which Optima Consumer also offers leading machines, are still a big trend. The great potential in milk powder products, as well as the question of how Optima Consumer meets special requirements within the chemical industry will be further topics at the trade show booth.
Optima Consumer at FachPack 2018 in Nuremberg: 25 - 27 September 2018: Hall 2, Booth No. 2/213 (joint booth Packaging Valley Germany e.V.)