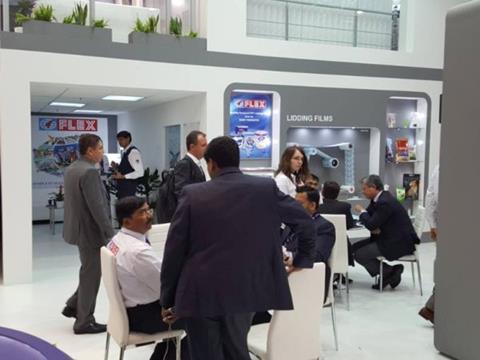 Barrier
One of the most important purposes that laminates comprising different substrates serve is to provide optimum barrier properties to protect the product from being spoiled through its recommended shelf life. Flex Films has made substantial headway in engineering high barrier substrates. Some of these were shown at interpack were AlOx (PLX & PGX); Bag in Box (LBP-M); High Barrier MET PET (EBP – M) and Super Barrier Corona (PGB) Films among several others.
Notably AlOx (PGX) Polyester Film is the thinnest PET AlOx film available globally. Despite being the leanest, the 9.5 micron AlOx polyester film exhibits excellent barrier for oxygen and water vapour as W.V.T.R (gm/m2/day) and O.T.R (cc/m2/day) are both < 1.0. No player other than Flex Films offers such a thin PET AlOx speciality film with such superior barrier properties.
Super Barrier Polyester (PGB) Polyester Film with a specially modified surface treatment (on one side) offers very high barrier to oxygen. The other side of the film can be corona treated or left untreated as per the requirements of the convertor. The Oxygen Transmission Rate (O.T.R) of this film is < 6 cm3/m2/day at 23 degrees Celsius & 0% RH. A big advantage of this film is the fact that it does not require any coating or co-extrusion of Polyvinylidene Chloride (PVDC) or Ethylene Vinyl alcohol (EVOH) for enhancing barrier properties.
PP (OPP & CPP) family
Flex Films also manufactures different variants of Oriented Polypropylene and Cast Polypropylene Films. Some of these films displayed included: Ultra Barrier OPP (TUB-M); Low SIT (TLS); Anti-fog OPP (TAF); Retortable CPP (CPR); Deep Freeze CPP (CDF) and High Barrier CPP (C-CXB-PZ-M) Films.
Aesthetics and anti-counterfeiting
The threat of counterfeiting to the brands is more dreaded than ever. Also on display at Flex Films' stand were holographic and fresnel lens embossed films among other brand protection solutions. Fresnel Lens Embossed Film in particular is being manufactured at Flex Films Europa (Poland) in alliance with WaveFront Technology Inc. with direct assistance and support of Uflex Limited's Holography business back in India. Aesthetics play an undeniably important role in packaging, drawing attention of the customers at the point of sale (POS). Besides combating counterfeiting these films also add to the aesthetic quotient of the packaging. Other pigmented special effect films from the polyester and polypropylene families in high gloss and matte variants were also displayed at Flex Films' stand at interpack 2017.
Talking about Flex Films' wide array of products on display at interpack 2017, Mr. Chaturvedi, said, "interpack is a great platform for meeting the convertors and brands and taking them through our large and innovative assortment of films and substrates."He was was keen to highlight the group's international reach, which sets it apart from the competition.
"Flex Films has an extensive global manufacturing and marketing footprint. It operates state-of-the art manufacturing facilities in India, Dubai, Mexico, Egypt, Poland and the USA, which makes it the only film manufacturer in the world to have plants operating in the four major continents of North America, Europe, Asia and Africa that together account for over 90% of the global Packaging requirements." Going forward, the company has ambitious plans.
"Our goal is to set up strategically located facilities near all major film markets in order to be able to despatch freshly produced films within seven days of receipt of an order. By 2020, we intend to be operating out of 12 countries," Mr. Chaturvedi concludes.
More info: