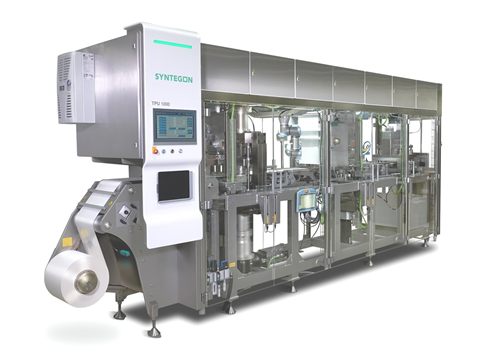 With not long to go now until the Sustainability Awards 2020, we talk with one of the finalists in the 'Machinery' category, Syntegon Technology, about its new machine that forms shaped paper pods.
Congratulations on being selected by the international judging panel as a Sustainability Awards 2020 finalist! Could you please introduce your successful entry and what's innovative about it?
Syntegon's TPU1000 Paperforming machine is specifically designed to form paper and paper-based materials, realizing appealing packaging solutions. The TPU 1000 is a compact and modular form-fill-seal machine designed for product launch, small or medium-size production, and multi-purpose solutions.
With a speed of up to 15,000 packs per hour, the machine is suitable for various products and filling technologies. Working from the paper reel, the material is formed with precision servo drive technology, enabling high-quality shapes and embossing of the pods. The volume of the shaped paper pods ranges from 10 up to 100 ml. The touch and feel of the material create a unique consumer experience.
What are the environmental challenges in packaging that your entry addresses, and what impact do you hope it will make?
Today, many products are still packed in plastics and the packaging does not get recycled after usage, even though alternative pack styles exist and are being developed further.
The TPU1000, in combination with FibreForm® paper, which is a stretchable paper material from BillerudKorsnäs that allows up to 10 times deeper embossing compared to conventional paper, has the ability to reduce plastics usage and replace some of the existing polymer pack styles in the market.
Our forming technology creates unique 3D effects with tailor-made haptics and optics that differentiate from existing solutions in the market. If required for product protection, various types of barriers can be applied to the paper to ensure the necessary product protection.
With shaped paper pods, we come closer to packaging solutions that require fewer fossil resources and which can also be economically and flexibly realized. Solutions can range from a pure paper packaging up to a coating from renewable resources as a fully bio-based solution.
I'd like to ask you about the broader picture beyond your successful entry. 'Sustainability' in packaging is multi-dimensional – both in terms of objectives and challenges. Could you comment on the most important roadblocks you identify from your position in the value chain, and the kinds of solutions you would like to see addressing them (e.g. areas of technological innovation, collaboration, regulation)?
As a packaging technology manufacturer, we are typically not the first address in the market for sustainable packaging. This is usually the material producers and film converters or the recycling industry. However, from our perspective, it is necessary that especially the machine producers are involved when more sustainable materials or pack styles are tested and implemented, as variations in material properties or packaging shapes can have a big influence on the packaging process.
When changing from a polymer material to paper or paper-based materials, it might be required to adapt the technology to the material properties to prevent reduced equipment efficiency or damage to the product.
It might also be required to adapt the product to the packaging material and the packaging process. Whatever the approach is, early integration of the packaging machine manufacturer can reduce risks and prevent surprises with sustainable materials.
In addition, further development is required on the material side to make sustainable packaging solutions both technically and economically more attractive. This can be the development of improved paper materials or improved barrier materials with a focus on the final costs. But also, the recycling industry has to invest in equipment to handle the materials that enter the market in the next years.